The
following article was adapted from the peta2 blog.
These adorable and kid-friendly treats are a unique spin on
traditional sushi. While we've already gotten in touch with our inner child by making
mock-i rolls (featuring vegan mac 'n'
cheese and burger-style crumbles), this recipe is perfect for satisfying your
sweet tooth.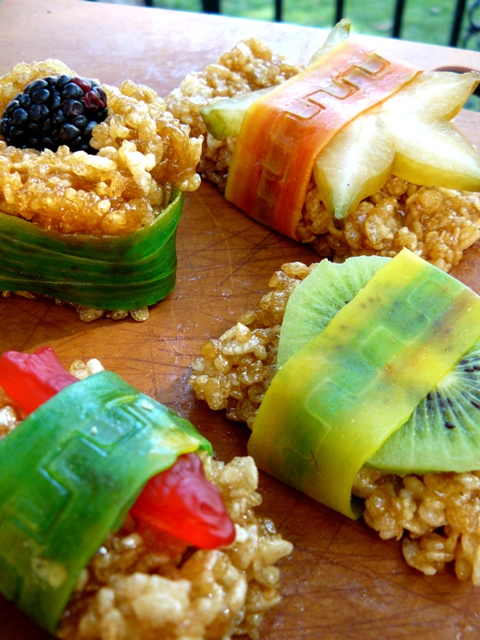 These cutie fruity sushi rolls will brighten up your day.
Feel free to use whatever fruits you like. Get creative by cutting your
favorite fruits, like kiwi, into shapes using cookie cutters. And get the kids in
the kitchen so that they can get in on the fun and create their own.
So what will your cutie fruity sushi contain? Let me know in
the comments below, and enjoy!
Cutie
Fruity Sushi
3 Tbsp.
margarine
1
10-oz. tub Ricemellow Crème (or
a vegan marshmallow ice cream topping)
1
tsp. vanilla extract
1
tsp. agave nectar (optional)
6
cups Rice Krispies cereal1/2 box Fruit by the Foot
Swedish Fish
Fresh
fruit of your choice, in bite-size pieces (I used kiwi, starfruit, and blackberries)
Melt the margarine
in a pan, then add the marshmallow crème, vanilla extract, and agave nectar. Mix
well. Gradually add the Rice Krispies, and stir frequently over low heat to
prevent burning (and damage to the Snap, Crackle, and Pop!).
Pour the mixture
into a greased pan and let cool.
Cut the treats into small
rectangles.
Wrap each rectangle in
a piece of Fruit by the Foot and top with the fresh fruit or Swedish Fish.
GD Star Rating
loading...
Article source: PETA Action Alerts