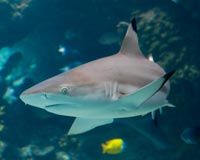 Your immediate help is needed to protect worldwide shark populations!
In April, Assemblymembers Paul Fong (D-Cupertino) and Jared Huffman (D-San Rafael) introduced AB 376, which would make it illegal to sell, trade or distribute shark fins in California. Although not the only economic incentive for fishermen, the market for "shark fin soup" is a strong one, and California is one of the largest markets for fins outside of Asia. So-called "shark finning" has taken a horrifying toll on sharks.
Some of the numerous reasons to stop this abhorrent practice:
Shark finning is inherently cruel: sharks are often finned alive, then thrown overboard to sink to the bottom of the ocean and die a slow, agonizing death
As much as 90% of the world's shark population has been decimated by overfishing, with shark finning accounting for up to 70 million shark deaths each year
Sharks are a crucial part of the world's ecosystems
Shark finning is banned in the coastal waters of many nations, including the U.S. (with the exception of North Carolina)
Hawaii, Oregon, and Washington have all passed bills banning the sale of shark fins
AB 376 has passed the Assembly and is now slated for a June 14 hearing (and potential vote) in the Senate Committee on Natural Resources and Water.
Take Action!
California residents: Contact your state Senator and urge him or her to support AB 376. As an increasing number of states are realizing, cruelty is intolerable regardless of its place in any culture's traditions.
Thank you for your crucial support!
GD Star Rating
loading...
Article source: IFAW