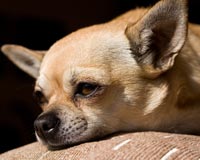 (Santa Clara County, CA) Due to California's Three Strikes Law, the felony animal cruelty and misdemeanor battery case currently pending against Bud Wally Ruiz could result in a sentence of 25 years to life in prison.  
Recently charged after a May 12, 2011 incident in which he allegedly assaulted his wife and killed her chihuahua by throwing the puppy across a room, Bud Wally Ruiz reportedly has four previous convictions for assault with a deadly weapon, and is listed in the Megan's Law online database of registered sex offenders.
The tragic connection between domestic violence and animal abuse plays out over and over again across the country. While law enforcement officials have become increasingly educated on this dynamic over the years, the work of expanding public awareness and accomplishing legislative tools remains imperative.
Take Action!
Contact your legislators and urge them to pursue laws which protect humans and animals from interpersonal violence. Legislative efforts which address this issue include protective orders for companion animals, cross-reporting requirements, animal abuser registries and enhancement provisions for animal abuse committed in the presence of minors.
GD Star Rating
loading...
Article source: IFAW