The following article was written by Keegan Baur.
Have you ever wanted to do something
super fun and daringly different to your hair but haven't been brave enough? If
your answer is "Yes," you're just like me! Fortunately for those of
us who are wary of drastic changes, you don't have to commit to an extreme cut
or color (or support a cruel trend like feather hair extensions) in order to sport a fresh new look. Enter Manic Panic hair strips: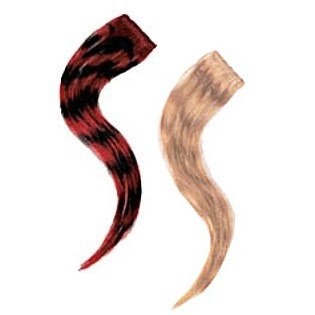 Internationally renowned hair color and
cosmetics company Tish
Snooky's Manic Panic has produced cutting-edge hair dye,
makeup, and nail polish since the '70s. Over the years, this company's
rainbow-like spectrum of brightly colored and cruelty-free products have bestowed rock 'n' roll glam on countless girls who've dared to be
different. Now, you can add yourself to this cadre of feisty and fashionable "femmes
fatales" by entering our contest and scoring your very own Savage Tiger Glam Strips! Two lucky winners will each receive a pair of these racy hair extensions in the
hue(s) of their choice: Vampire Red and/or Natural Blonde.
Is anybody else pumped at the prospect
of changing up your hairstyle without having to make a long-term commitment? If
you're ready to turn heads with two of these cruelty-free and hot-hued hair extensions,
leave a comment letting us know the first place that you plan on rocking
your new look! After you
comment, fill out the form below and submit your entry by July 22, 2011. Two
winners will be chosen at random and notified on July 25, 2011.
GD Star Rating
loading...
Article source: PETA Action Alerts