I'll be ordering a Carlsberg beer the next time I'm out on the town, now that Carlsberg India, a subsidiary of the Danish brewing giant, has responded immediately to PETA India's plea to stop sponsoring elephant polo games after learning how elephants in captivity are routinely threatened, jabbed, and beaten with an ankus (a heavy rod with a sharp metal hook on the end) and having a series of telephone conversations with PETA India. Carlsberg also heard from other caring activists and groups who rallied to the call―and we thank them for their prompt action. Elephant polo is a shameful vestige of the British Empire. We are sure Carlsberg didn't think men with mallets charging after a little ball sounded harmful, but when they heard the rest of the story, they did the right thing.

Captive elephants are also deprived of everything that is natural and meaningful to them and kept shackled in chains whenever they're not "playing polo." Citing the company's reasons for pulling its sponsorship of the Polo Cup, Carlsberg India's managing director said, "[W]e respect the concern being raised and hence, have decided to do the right thing." We'll drink to that!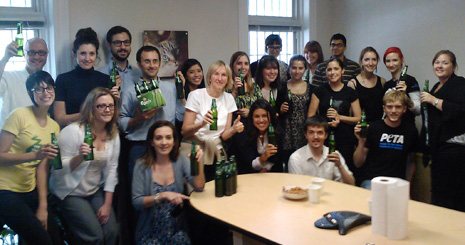 PETA U.S.' Washington, D.C., office celebrates the elephant polo victory with cold bottles of―what else?―Carlsberg beer.
Please thank Carlsberg for making the compassionate decision to stop supporting elephant abuse.

Written by Jennifer O'Connor
GD Star Rating
loading...
Article source: PETA Files