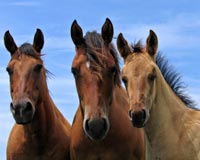 Please help stop the abuse and slaughter of horses for human consumption!
The "American Horse Slaughter Prevention Act of 2011" (S. 1176) — introduced by Senators Mary Landrieu (D-LA) and Lindsey Graham (R-SC) — will end the slaughter of horses for human consumption and the domestic and international transport of live horses or horseflesh for human consumption. Tragically, each year well over 100,000 American horses are transported to international destinations to suffer inhumane slaughter in order to please the palates of those in other countries who consume horses. Predecessors of this bill have come close to being passed, but now is the time to ensure this bill finally becomes law.
Please contact your United States Senator today and ask him or her to stand up for America's horses and support S. 1176. Enter your zip code to the right to contact your Senator now.
Let Congress know that joining your voice are the voices of over a quarter of a million people who have signed ALDF's Animal Bill of Rights, supporting the belief that horses, and all animals, should be free from exploitation and abuse by humans.
Thank you for speaking up for horses and being an advocate for all animals!

GD Star Rating
loading...
Article source: IFAW