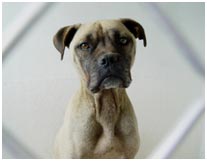 (Wayne County, MI)  Alerted by an anonymous caller, police reportedly found four deceased dogs in a backyard kennel, along with two live but severely weakened dogs — all victims of alleged abandonment and subsequent starvation. The April 8, 2012 discovery led to felony charges of animal abuse being filed against Lester France. One of the surviving dogs was too weak to be saved, but the other continues to improve under veterinary care.
Intentional animal abandonment resulting in death by starvation is all too common — be it motivated by callous cruelty or embarrassment over financial hardship, the suffering involved is outrageous and the inexcusable act is expressly illegal in most states.

Take Action!
Please send a polite letter through ALDF's website to Prosecuting Attorney Kym L. Worthy, asking her office to seek the maximum sentence in the France case upon conviction. Thank her for handling animal abuse prosecutions aggressively and encourage her to pursue a legislative amendment to Michigan law which would allow for an increased maximum penalty in such cases.
Learn More!
Find out what the penalties for animal abandonment are in your state. Download a free copy of ALDF's Animal Protection Laws of the United States and Canada, or see the laws individually by clicking on a state.
GD Star Rating
loading...
Article source: IFAW