November 2, 2012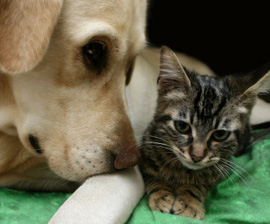 In celebration of National Animal Shelter and Rescue Appreciation Week from Nov. 4-10, The Humane Society of the United States, the nation's largest animal protection organization, encourages pet lovers to reach out and support their local shelters and rescues. As animal shelters and rescues in the Northeast recover from the recent weather emergency, community support has never been more important.
Celebrated the first full week of November, The HSUS founded the national event in 1996 as a way to engage the community in the work of the local shelters and rescues and help save more animals' lives. 
"Animal shelters and rescues are making great strides towards finding homes for as many animals as possible, but they can't do it alone," says Heather Bialy, director of shelter services for The HSUS.  "Shelters and rescues need the support of their communities to cope with the sheer number of animals that need homes, and to respond to emergencies like Hurricane Sandy. By working together, communities can put programs into place to address pet homelessness and keep pets with their families. This special week is about getting the public, shelters and rescues connected for the benefit of the animals, and celebrating the wonderful shelter and rescue pets who enrich our lives."
Approximately 3,500 animal shelters across the United States serve the estimated 6-8 million homeless animals who need refuge each year, and many more animals find themselves in need of the services provided by local rescue groups. These cats, dogs, and other companion animals end up in shelters and rescues through no fault of their own – their families move and can't take them, their owner is allergic, or any other number of reasons. There are animals of all breeds and ages that will make fabulous pets if only given a chance.  
National Animal Shelter and rescue Appreciation Week provides people with a reason to become acquainted with their local shelters and recues and learn how they can assist.
Here are a few ways everyone can get involved to help save homeless pets:
Adopt a pet. Find your next pet online at theshelterpetproject.org and become a fan of the Shelter Pet Project on Facebook at facebook.com/shelterpetproject.
Encourage your friends, relatives and neighbors to choose to adopt a pet from a shelter or rescue and save a life.
Share our Facebook icon and show your friends you support shelter adoption and rescue. Better yet, share with your friends a shelter animal's picture and help find a him or her a home.
Write a letter to the editor letting readersknow about the benefits of adopting and the support shelters and rescues in your community need to increase life-saving.
Volunteer. Helping animals at a shelter or rescue organization can be a rewarding experience. Look on local groups' websites for opportunities or visit VolunteerMatch.org. Young people can visit humanesociety.org/youthvolunteer for tips on helping local shelters or rescues.
Donate funds or supplies. Shelters and rescues are often in need of towels, toys, and other supplies for animals – and collect needed items from family, friends, and colleagues.
For more ideas on how to support the work of local shelters and rescues during National Animal Shelter and Rescue Appreciation Week, visit humanesociety.org/sheltersrock and join our Facebook event on November 5th to show others you support shelters and rescues.
The HSUS is the nation's strongest advocate for local humane organizations. Besides celebrating the valuable services that shelters and rescues provide to our nation's communities through National Animal Shelter and Rescue Appreciation Week, The HSUS supports their efforts by providing training programs, publishing the award-winning Animal Sheltering magazine and accompanying website animalsheltering.org, hosting Animal Care Expo, the nation's largest trade and educational show for shelter professionals, providing free resources and advice on best practices in shelter operations and much more. During 2012, shelter professionals from The HSUS visited numerous shelters and rescues and provided regional trainings as part of the first of its kind Rescue Central initiative to provide free resources and services to shelters around the country. The HSUS has also partnered with Maddie's Fund and the Ad Council to launch the Shelter Pet Project, the nation's largest promotion of shelter animal adoption – to see the ads and search for adoptable pets visit theshelterpetproject.org. 
Media Contact: Raúl Arce-Contreras: 301-721-6440; [email protected]
GD Star Rating
loading...
Article source: HSUS