PETA's
annual Congressional
Veggie Dog Giveaway once again proved to be
a huge hit on Capitol Hill! Wearing nothing but lettuce bikinis, the gals gave
policymakers some "food for thought" with free tasty, humane, and
healthy vegan hot dogs
during National Hot Dog
Month as the summer recess approaches.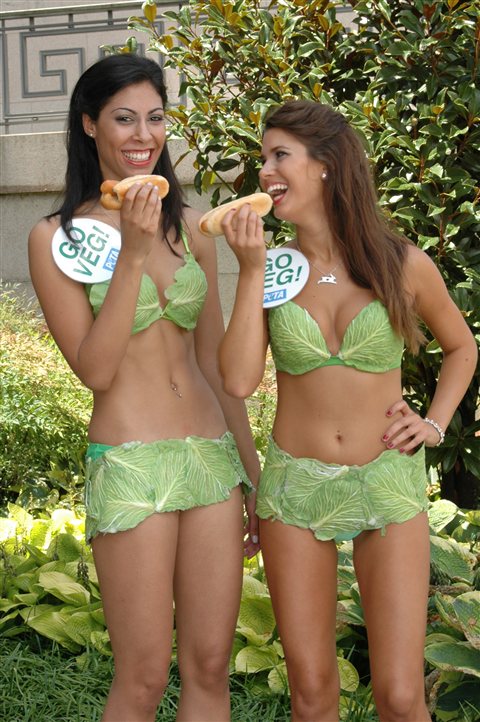 The leafy lovelies attracted a line of people ready for veggie dogs and, of course, a photo op. Everyone agreed that the food was delicious, and passersby were pleased to learn that veggie dogs can be found at their local grocery stores.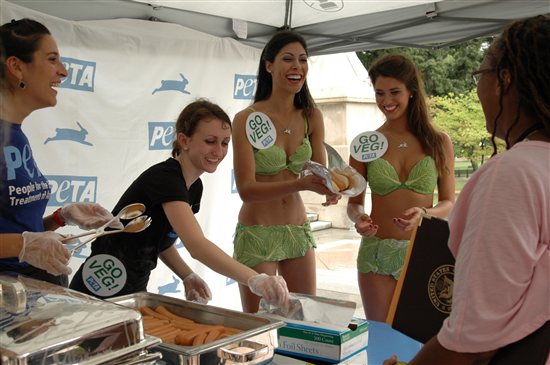 Bugs, bone, and pig anuses have all been found in
hot dogs. And if that's not reason enough to ditch the franks,
veggie dogs contain roughly a third of the fat and calories of their
fleshy counterparts—and they save animals from extreme suffering on factory farms and in slaughterhouses. 
'Lettuce' help you go vegan in three easy steps! 
GD Star Rating
loading...
Photo of the Day: 'Lettuce Ladies' Dish Up Veggie Dogs on Capitol Hill,
Article source: PETA Files