October 11, 2013
Grant will fund animal shelter repairs and possible expansion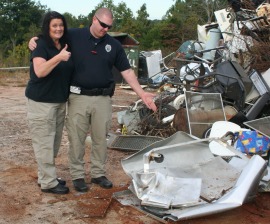 North Carolina's Alexander County Animal Shelter received a $10,000 grant from The Humane Society of the United States to fund animal shelter repairs and improvements, enrichment for shelter animals, elimination of gas chamber euthanasia and other much needed supplies and equipment.
The shelter, which takes in nearly 1,500 animals annually, has seen a declining rate in the euthanasia of adoptable animals.
Kim Alboum, North Carolina state director for The HSUS, said: "Alexander County Animal Shelter is working hard to get adoptable animals into safe rescues and loving homes. They need community support to take the program to the next level. We are excited about all of the positive changes taking place."
James "Burkie" Jennings, chairman of the Alexander County Commissioners said: "With the elimination of the gas chamber we feel we are projecting a more positive image to our community. Being a small facility we depend on the community's support to help us improve the lives of the animals that are entrusted into our care. Currently, we offer a Low Cost Spay/Neuter program through the services of two local private Veterinary Hospitals and two rabies clinics a year."
Ben Whisenant, Supervisor at the Alexander County Animal Shelter said: "With the relationships that have been established with rescue groups, approximately half of the animals taken into the shelter are sent on transport and/or adopted locally. We are thankful for these organizations and for the families that adopt. The county is striving to move forward in a positive way by saving animals, providing services to assist the county citizens and education."
The funds for this grant will be used to:
Discontinue the use of the gas chamber as a method of euthanasia by training staff members and purchasing necessary supplies and equipment
Purchase equipment and supplies for the animals
Provide shelter improvements and possible future expansion
The HSUS works to end the euthanasia of all healthy, adoptable animals but maintains that when euthanasia does have to be performed, it must be done as humanely as possible.
Media Contact: Raul Arce-Contreras: 301-721-6440, cell 240-620-3263 [email protected]
GD Star Rating
loading...
Article source: HSUS