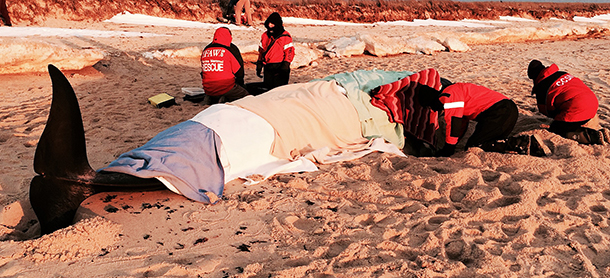 A live 18-foot Long-finned pilot whale stranded Monday afternoon on Hardings Beach in Chatham, Cape Cod. IFAW's Marine Mammal Rescue and Research Team (MMRR) received the call at noontime, quickly assembled our response team in Yarmouth Port and arrived on the scene shortly thereafter.
The first thing the team did was to observe the stranded whale's behavior and perform a basic health assessment to determine if it was sick, injured or if it was healthy enough to be released back into the wild.
Also on IFAW.org: Now proven protocols pave way for release of two male rhinos into the wild
We typically take blood samples for on-site analysis, but the sub-freezing air temperature (about 20 degrees F), created a challenge. Whales can constrict their blood flow to keep their core warm, so there was a limited blood supply in the pectoral flippers, dorsal fin and flukes, where we normally draw blood from.
The heart and respiration rates were within normal range, the animal was stable and in overall good body condition. After performing the health assessment, the decision was made to attempt a release at the beach to give the animal a shot at survival. 
We applied blankets to make the whale as warm and comfortable as possible until the tide returned and the animal could be refloated. The Towns of Brewster and Chatham arrived with heavy equipment to help provide support.
Unfortunately, while trying to manage the difficult logistics of moving a 4,800 pound whale, the animal's condition deteriorated due to the stress of stranding and its own weight.
Despite repeated attempts, the whale was unable to be returned to deep water. After consultation with our on-site veterinarian, we had to face the difficult reality that this whale could not be saved. With no other options, the decision was made to humanely euthanize it to prevent it from suffering.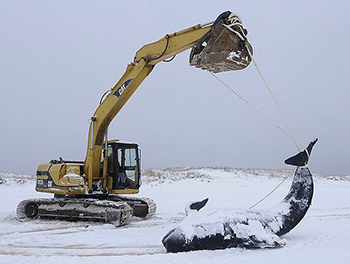 Pilot whale strandings are not uncommon on Cape Cod. In the past 14 years, we have responded to more than 100 pilot whale strandings. When single animals come ashore, they are more likely to be sick or injured than those that strand in groups. Tomorrow's necropsy will hopefully reveal what might have caused this whale to strand.
We use the data that we collect during our live animal health assessments and from necropsies to better understand these marine mammals and to continually improve our response protocols. 
Our Marine Mammal Rescue team has 200 trained, local volunteers, many of whom have been with this team for a decade or more; we utilize these first responders to provide supportive care to the animals while IFAW's staff is en route to a stranding.  
To continue our successful trend, we need to receive notification of strandings, both live and dead, in order to provide care and collect data. 
We rely on the public to keep us informed, and we are always grateful for their help.
–JH
Report stranded marine mammals on Cape Cod to our 24-hour hotline at 508-743-9548.
GD Star Rating
loading...
Article source: IFAW