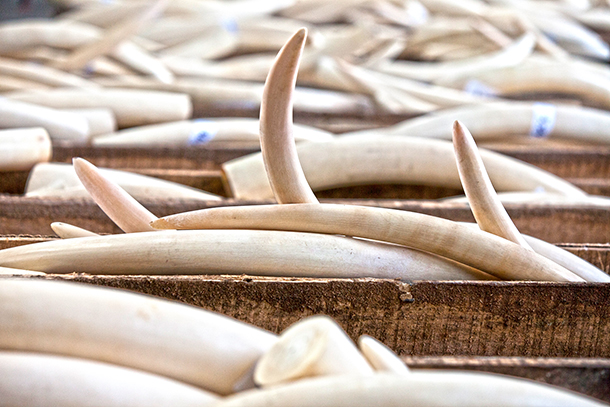 The International Fund for Animal Welfare (IFAW) has been investigating the sale of wildlife products over the Internet since 2004 in an effort to close down access to illegal wildlife products online. It was IFAW's report on these investigations, among the first ever performed, that exposed the shocking quantity of elephant ivory available for sale online. We welcomed the response of many Internet marketplace sites that are also now committed to protecting elephants from poaching for their ivory.
In 2009 eBay took the bold step of banning the sale of all ivory items on its platforms, while Taobao, hosted in China and one of the world's most visited websites, voluntarily banned the sale of ivory and a number of other wildlife products in the same year. Etsy joined this club of responsible online marketplaces in July 2013 when it adopted a complete ban on all wildlife products.
Recently the Evening Standard highlighted how some traders are trying to avoid detection from eBay's team of self-regulators by disguising their ivory items using the term 'faux ivory'.
Since those initial efforts in 2009, IFAW has continually been working with eBay and other website marketplaces, as well as enforcers, government officials and politicians to ensure that we can tighten the net around wildlife criminals and stamp out the trade online. I have met personally with the eBay team responsible for policing their website and was very impressed by their commitment to block the efforts of dubious ivory traders.
We can also take some pride in the work being carried out by law enforcers across the globe who hunt down the individuals and gangs that seek to profit from the suffering of our wildlife. In the UK the National Wildlife Crime Unit and UK Border Force have been exemplary in their fight against wildlife crime and this is leading to a steady stream of prosecutions against traders selling ivory and other wildlife products over the Net.
Sadly there are people who may be unwittingly selling or buying wildlife products without understanding the true cost to the survival of elephants and other wildlife, so we need to continue to educate consumers on the threat wildlife trade poses to the survival of some of our most magnificent species.
Tragically there are also individuals and organised criminal syndicates who knowingly capture and trade live animals or kill wildlife for their horns, skulls, tusks and other products which they sell over the Internet.
In order to catch, prosecute and deter these criminals we have to fight the long fight. Thankfully IFAW is doing this alongside concerned citizens, law enforcement agencies, governments and a growing number of conscientious website marketplaces such as eBay, Taobao and Etsy.
Together we can stop wildlife crime.
–TMC
To learn more about IFAW's efforts to stop wildlife crime, visit our campaign page.
GD Star Rating
loading...
Article source: IFAW