Cora Bailey is Special Advisor Companion Animals for IFAW; she also founded and runs Community Led Animal Welfare (CLAW) in Johannesburg, South Africa. In the past few weeks CLAW has been hard hit by protest action taken by residents of the community where they are based, and safety concerns for staff, property and their animal patients have forced them to evacuate their premises. –Christina Pretorious, IFAW S. Africa Communications Manager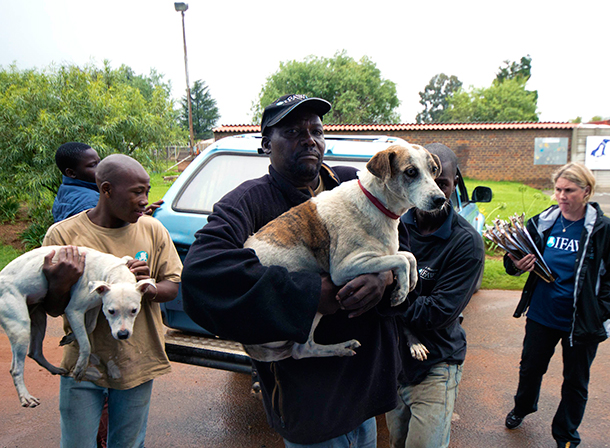 Would it be a stretch to describe to CLAW as "refugees" from this week on? I don't think so. The past 5 weeks have been some of the hardest ever in our 20-year existence. In January, what we have been dreading for months became reality.
The community of Durban Roodepoort Deep, where CLAW has its premises, erupted into violent protest against likely eviction from their homes after the sale of the former gold mine. They created havoc on the roads surrounding our clinic, burning tyres and tree stumps, stoning cars and shouting slogans. One man was shot dead.
Also on IFAW.org: Have we forgotten to look at things from our dog's perspective?
The protesters all live illegally in abandoned houses and a hostel on the property, and "Zama Zamas" (illegal miners) are literally strip mining across the road from our back fence, while others wage turf wars underground as they fight for "ownership" to loot what gold remains in abandoned mine shafts on DD.
Many of these people are also refugees, with most of the "Zama Zamas" in this area coming from Zimbabwe. Others are South Africans. All are desperate to hang onto to even the most humble abode, as they face the reality of losing their shelter as winter approaches.
Meanwhile, criminals are openly looting whatever they can take. CLAW hasn't had electricity for weeks now – all the cabling in the area has been stolen – and we have been relying on a generator bought with the generosity of IFAW donors. Long term water security is also doubtful, so we have had to install water tanks.
Given all of this, and taking the advice of security officials, the police, politicians and the developers, that CLAW's safety is in real danger, we had to take the difficult decision to evacuate the clinic.
We're hoping this will be only temporary.
In the meantime we are fortunate and appreciative to have been loaned clinic space at Friends of Rescued Animals (FORA) not too far distant from where we are now, but too far for the more than 1,000 "walk in" clients who arrive each month to have their loved pets treated at CLAW.
It has been a hugely complicated exercise, with all the usual problems that go with any big move (and torrential rain) as well as moving our dozens of patients but also because we cannot, and will not, abandon the communities that rely on our services.
We will be posting a temporary mobile clinic at the existing CLAW premises daily, to help those people that arrive on foot. The mobile will allow a swift getaway if required, and we can still help the people of Bramfischerville, Sol Plaatjie and Matholiesville informal settlement who walk to CLAW.
Our regular services further afield will continue as normal.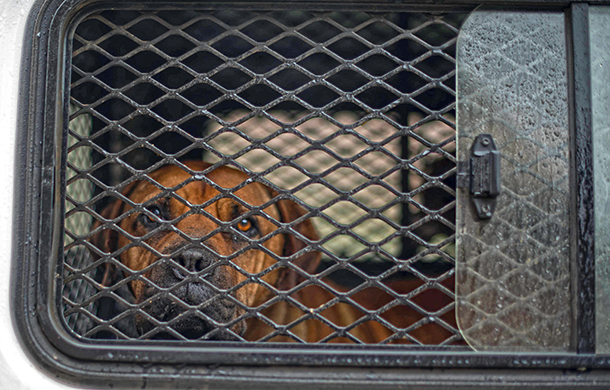 On the upside the developers have given us a commitment that our home-base at DRD remains ours, and that we can return just as soon as it is safe – hopefully within the next few weeks.
Mostly I am grateful to the CLAW staff who having been asked to uproot themselves from our clinic, add another hour onto their travel time to work each day, and to live with the appalling uncertainty of the last month, have done so with grace and good humour. 
Importantly, none of this would have been possible without IFAW and its supporters. It has been an expensive and complicated business, and we couldn't have done it with you.
To have you at our back has made it so much easier.
Thank you all. We're looking forward to moving home just as soon as possible.
–CB
Your support of IFAW efforts makes projects like CLAW possible. Consider a donation now.
GD Star Rating
loading...
Article source: IFAW