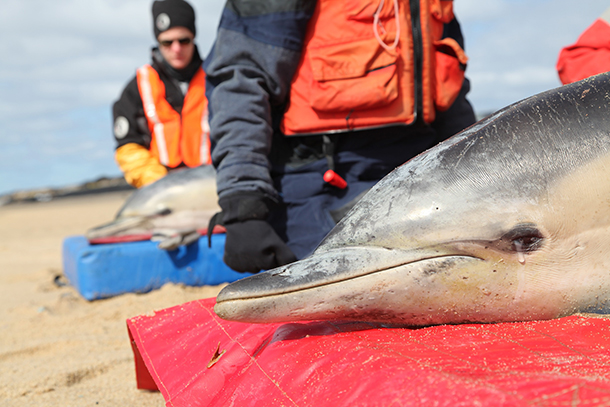 Five common dolphins stranded in Provincetown Harbor's flats this morning, and four were transported to nearby Herring Cove Beach where they were released four hours later.
The International Fund for Animal Welfare's Marine Mammal Rescue and Research (MMRR) team responded to a call from the Cape Cod town's police department at 8:15 am. Even though one died before our staff and volunteers arrived on scene, the team conducted extensive diagnostics (drew blood, checked heart rate, performed ultrasounds) on the four others and they were deemed healthy for release.
The four dolphins were loaded onto IFAW's rescue trailer and driven across to the other side of the small town at the tip of the Cape Cod peninsula. Herring Cove is a common release point because of its access to open and deep water. The dolphins were tagged for identification purposes.
The dead dolphin has been removed from the flats, and veterinarian Michael Moore and IFAW staff will perform a necropsy.
This is just the second mass stranding of 2014 on Cape Cod (the first stranding of two dolphins occurred Jan. 1). MMRR has responded to a total of 44 animals in distress this year, but it is a "below average" year in number of dolphin strandings.
–BS
Below is a Storify collection of related articles and social media postings about this stranding event. Having trouble? Use this link to view the page on IFAW's Storify account page.
[View the story "Marine Mammal Rescue team rescues 4 stranded common dolphins" on Storify]
GD Star Rating
loading...
Article source: IFAW