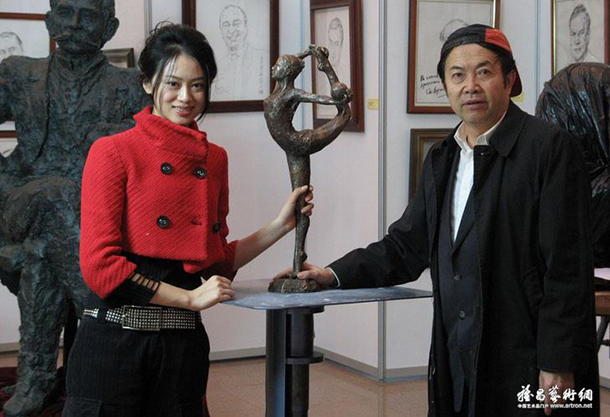 We know that the government plays a crucial role in changing Chinese attitudes about ivory consumption. Not only must government make laws to discourage the burgeoning demand, but it has to change its own behaviors.
That is why Chinese artist and environmentalist Yuan Xikun and famous basketball player and activist Yao Ming both have urged the Chinese People's Political Consultative Congress (CPPCC) to prohibit civil servants from giving and receiving ivory, both as gifts and as bribes. "Expensive ivory products are always used as bribes," explained Yao. "They are an important feature of the extravagance and corruption in China."
This follows the gesture made a couple of months ago by Communist Party of China (CPC) Central Committee and the State Council last week to explicitly ban dishes containing shark fins, bird nests and protected wild animals at official receptions and banquets.
President Xi Jinping's government austerity campaign to root out corruption has been expanding to include the lavish consumption of wildlife parts and products by government officials. The campaign has already led to a drop in sales of luxury watches, expensive liquors, and other extravagant "gifts" commonly used to court favor in both the business and political arena. If the proposals by Yuan and Yao are heeded, it would be a monumental step in this government effort.
The Chinese public looks to its leaders for guidance and examples. The most compelling reason for Chinese to stop buying ivory is for the government to make ivory buying illegal in all circumstances, according to a recent IFAW-commissioned survey by Rapid Asia.
A WildAid survey also echoed the same sentiments, with 94% of the Chinese public support a government ban of ivory trade in order to save elephants.
"Ignorance, indifference and greed are three key drivers of demand for parts and products of endangered species" said CITES Secretariat General John Scanlon last February in London where leaders from 46 countries around the world gathered to pledge their support to fight wildlife poaching, trafficking and demand. 
We know that we can enlighten ignorance. The most compelling reason for Chinese consumers to reject ivory products is the knowledge that elephants are killed for their ivory (90%).  Our campaign "Mom, I have teeth" have reduced the segment of the population most likely to buy ivory from 54% down to 26%.
We know that indifference attitude can change too. Increasing realization of the linkages between wildlife crime with other forms of violent crime, profiting criminal syndicates, stimulate corruption, threatening human safety and destabilizing regional security, is galvanizing governments to unite in the fight wildlife crime.
The best way to counter greed is by increasing the risk for criminals engaging in wildlife crime, by strengthening laws to ban ivory trade combined with vigorous enforcement and meaningful punishment for violators.
Those that engage in trade and consumption of protected wildlife are as criminal as the poachers who actually pull the trigger.  
In addition to calling for the prohibition of government officials giving or receiving gifts made from endangered species, the proposals to China's legislative body urges for maintaining and enforcing the administrative ban on the auction of endangered species; destruction of the entire stockpile of confiscated elephant ivory; and ultimately phasing out domestic ivory trade in China.
As a sculptor, environmentalist and UNEP ambassador, Yuan Xikun has a unique request in his proposal. 
"Recall an ivory carving China gifted to the UN displayed at the UN Head Quarters in New York, to be replaced with a gift that demonstrates China's commitment to the protection of endangered wildlife and the world's natural heritage." 
–GGG
For more information about IFAW efforts to curb demand for ivory in China, visit our campaign page.
GD Star Rating
loading...
Article source: IFAW