The countdown has started. The IFAW-WTI team is busy making last minute arrangements for the most memorable "Jumbo journey" of the year. 
The weaned elephant calves of IFAW's Wildlife Rescue Center in Kaziranga are all set to move to their reintegration site in Manas, their ultimate ''home'' in the wilderness along the Indo-Bhutanese border.
The attachment with these hand-reared elephant babies is an unforgettable memory for all of us working at the Center. From the animal keepers to the vets, biologists and at last me, the official documentation friend of the calves.
The team has translocated and reintegrated 14 elephant calves to Manas since 2007.
The hand-rearing of the calves, milk-feeding, wild-walk are all rehabilitation phases the calves have experienced during their few years stay at the Center.
Jakhala, the 'matriarch' of the orphan herd always takes the lead during the wild-walk along with the animal keepers who monitor their activity. Gradually, they have been going deep inside the Panbari Reserve Forest for food and water. The four elephant calves enjoy bathing in the water body inside the forest.
Diffloo being the youngest, keeps a distance from the herd most of the time and joins them at night in the feeding areas. However, he spends many playful moments with Philip Dev, the other male calf within the herd. He is very fond of his food and would like to spend the entire day feeding.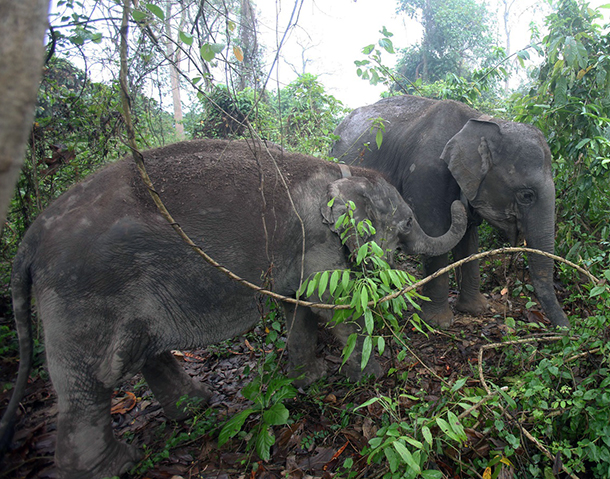 Sensing the radio collar, a newly installed foreign body on the neck, every elephant reacts to one another, touching the collar with their trunk. Now, their interactions are new and different as Phillip Dev tries to inspect Jakhala's collar antenna and so on.   
Rani and Tora are much more independent and always lead their own lives with less interaction with the younger ones.
The small herd has lots of memories with their human keepers.  
Bhadreswar Das, Raju Kutum and Tarun Gogoi the animal keepers of the Centre have taken the utmost care since the day the baby jumbos arrived. Now the weaned babies are marching towards a new life in the wild, and my eyes are eagerly waiting to witness their success in Manas National Park. 
–SB
To find out more about the IFAW Wildlife Rescue Center in Kaziranga, visit our program page.
GD Star Rating
loading...
Article source: IFAW