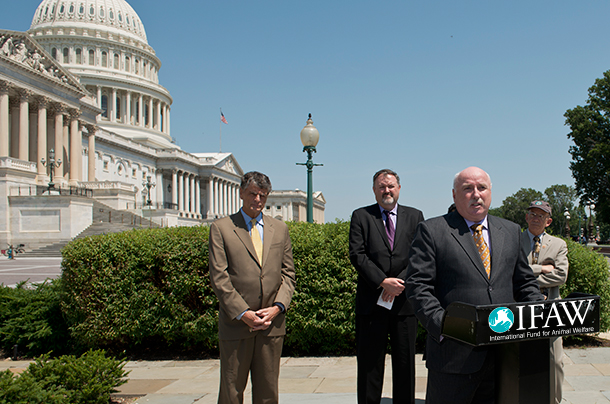 The criticisms on Capitol Hill today regarding the U.S. Fish and Wildlife Service's plan to ban the commercial trade of elephant ivory domestically are misleading.
Special interest groups are making desperate attempts to convince Congress, the Administration and you that the United States does not bear a significant degree of responsibility for sustaining poaching on the African continent.
But we do.
Unfortunately, the U.S. still has a thriving domestic market for ivory. We still import and export tusks and carvings. Of that merchandise, a substantial amount is contraband. I know this for a fact.
IFAW has for years closely monitored the ivory trade, and our analyses of U.S. policy and border seizure records have shown that the largely unregulated ivory market in the U.S. could be significantly impacting the crisis. Behind China, the U.S. is believed to be the world's second largest ivory market.
I have the opportunity to set the record straight at a press conference hosted by the Ranking Member of the Natural Resources Committee Gregorio Kilili Camacho Sablan, along with Representative Peter DeFazio (D-OR) and fellow speakers from Kenya Wildlife Services, TRAFFIC and the Environmental Investigation Agency. I am here to shed light on the role the U.S. plays in the ivory trade, and help stress the connection between the current poaching crisis and the newly proposed ivory regulations.
Earlier this year, the Obama Administration made an historic proposal to ensure that the U.S. plays no longer plays a part in fostering illegal wildlife trade. Unfortunately, special interest groups and politicians have come out of the woodwork to attack these common sense laws meant to protect elephants from further poaching, which are welcome by animal welfare and conservation advocates around the world, and by the American people. A recent poll found that 80 percent of Americans strongly support ending commercial trade in elephant ivory in the U.S.
Elephants are being slaughtered at an unprecedented rate: on average, an elephant is killed every 15 minutes for its ivory.  Most recently a 40-year old bull named Satao, was killed by poachers using poisoned arrows. Satao was one of the most famous elephants in Kenya, and rangers and conservationists tracked him carefully for years to protect him.
These elephants may live abroad, but their poaching is not a problem that simply affects the countries where they reside. It is a global problem, for which we are all accountable.
Let's make sure the U.S. government continues to hear our voices, supporting these strong and vital regulations, not those of the special interest groups that are trying to weaken the new rules. Remember, we cannot forget the elephants.
–AD 
Read IFAW's infographic below to learn more about the illegal ivory trade:
GD Star Rating
loading...
Article source: IFAW