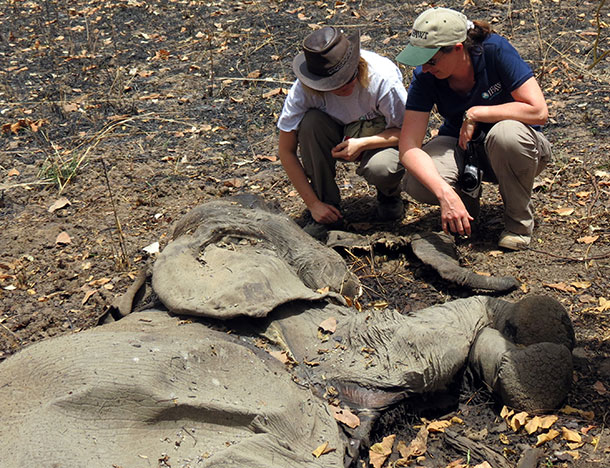 Sadness but not surprise: That was my first reaction to the findings published in the new report — Illegal killing for ivory drives global decline in African elephants — by George Wittemyer et al published in PNAS (Proceedings of the National Academy of Sciences of the USA).
The report indicates that 100,000 African elephants were poached for ivory in just three years.
During 2011 alone, about one of twelve African elephants was killed by a poacher. Forest elephants in Central Africa were killed at much higher rate.
Virtually everywhere in Africa, it seems, elephant poaching deaths are surpassing elephant reproduction rates. You don't need to be a biologist to understand the inevitable result of this trend: the end of elephants.
If this report's confirmation of the intensity of the elephant poaching crisis across Africa spurs concerted, targeted action by range states, consumer countries and international law enforcement agencies to stop the killing of elephants and end the global demand for ivory, it will be extremely useful.
If it can point law enforcement agencies to the areas elephant most need protection and marshal the resources needed to stop the poaching and smuggling, it will have done a great service. Short of that, it is like inventorying deck chairs on the Titanic: It is simply not enough to count carcasses as elephant populations plummet and local populations of these animals are wiped out.
Read about the U.S role in elephant poaching
Whether the average number of elephants killed each year is 25,000 to 50,000, or about one every 15 minutes – as IFAW has estimated – or 96 per day as the Wildlife Conservation Society has been saying, what is most important are the next steps taken to stop the slaughter.
At IFAW, we didn't wait for the latest report to start protecting elephants. For years, we've been implementing a multi-pronged approach to address the elephant crisis at three points along the bloody ivory trail: source countries, transit countries and consumer countries.
In elephant range states such as Kenya, Tanzania, Malawi, Zambia and India, IFAW helps train and equip anti-poaching rangers, community scouts and forest staff to protect elephants where they live. These brave men and women are the elephants' first line of defense against poachers.
By helping to provide local people with viable alternatives to poaching and address human-elephant conflicts, we build popular support for elephant protection.
Through our Prevention of Wildlife Trafficking training workshops, IFAW has trained almost 1,500 customs agents, border guards and wildlife law enforcement officials from more than 37 countries to detect and interdict ivory and other illegal wildlife products in transit from source to end-user nations.
We also work with INTERPOL and other law enforcement agencies to conduct operations and strengthen inter-agency and trans-national collaborations that have helped to disrupt and dismantle international criminal gangs and smuggling rings.
Even the Internet is a major conduit for illegal sales of ivory, live wild animals and other wildlife products, as IFAW's investigations of online wildlife trade have revealed. Our global findings have been used by law enforcement officials to crack down on these criminal activities, led website owners to ban sales of illegal wildlife products and encouraged policy-makers and legislators to tighten regulations and oversight of illegal wildlife sales online.
The combined result of these initiatives has been to make it more difficult for wildlife criminals to move illegal products electronically.
In China, Europe, the United States of America and elsewhere, IFAW advocates for stricter laws and enhanced penalties for wildlife crimes at the same time we run education and awareness campaigns to reduce demand and change the behavior of ivory and wildlife consumers.
Time is running out for elephants as a growing middle class in China and other nations are willing and able to buy more ivory products both as status symbols and as financial investments. In range states where economic opportunities are lacking, poaching sometimes seems to be a lucrative option, and because international criminal gangs and insurgent groups are more and more involved in ivory poaching and smuggling.
But an engaged global community of governments, NGOs, law enforcement agencies and concerned people can end the slaughter before it is too late for the world's remaining elephants.
We must count ourselves among the active protectors of these majestic animals and not just count carcasses.
–JK
Learn more about IFAW efforts to end the slaughter of elephants, visit our campaign page.
GD Star Rating
loading...
Article source: IFAW