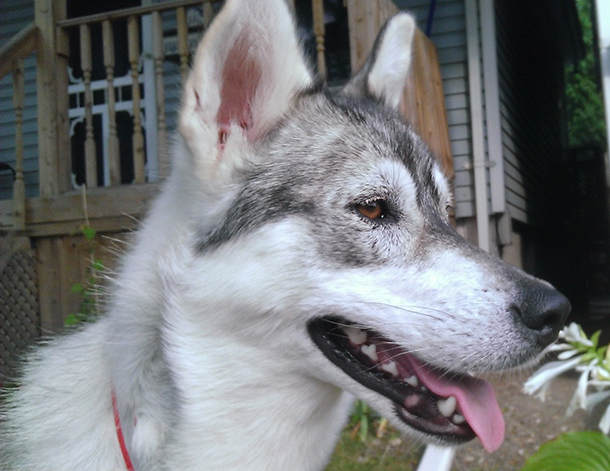 Phillie was dumped on the doorstep of a woman who picks up roaming dogs in a couple of the Cree communities in Northern Canada where IFAW works to help improve access to veterinary services and educate owners and children about adequate guardianship and good pet ownership.
Northern Dogs Project provides amazing care! Read about the team's successful resuscitation of new born pups.
In these isolated, underserved communities, it is often difficult for people to access and provide the things they need to care for their pets, and dogs are often seen roaming as they find food, water, or a friend to hang with.
This dog was a mess. She was emaciated, had lost most of the fur on her face and legs, and her skin was red and raw. The woman who found her rushed to a veterinarian, thinking the dog had been burned.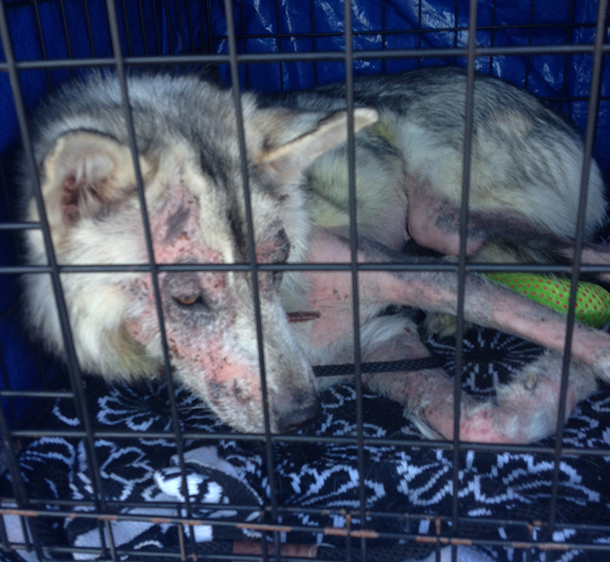 Oddly enough, Phillie had mange, which is uncommon in the cold Northern climate. After being treated by the vet, Phillie's mange had not responded and the vet recommended she be euthanized.
Unwilling to give up, Phillie's caregiver reached out to IFAW's Northern Dogs Project Manager, Jan Hannah, who was in the communities running the annual veterinary clinics with the vet team.
The team was happy to add Phillie to the vanload of vet equipment and a couple of other unwanted dogs who were looking to start another life.
For one month, Jan had Phillie at her house, treating her daily with an intensive new medical regime that showed results almost immediately.
She also brought the dog in to have her spayed, because the vet warned her that if Phillie went into heat it could send her mange back into high gear as it taxed her exhausted system.
After a few short weeks, Jan noticed an amazing change.
Phillie's fur was growing, she was beginning to put on weight, and she was looking happier and healthier every day.
"She is not your typical husky" says Jan of the wonderful dog that Phillie was blossoming into.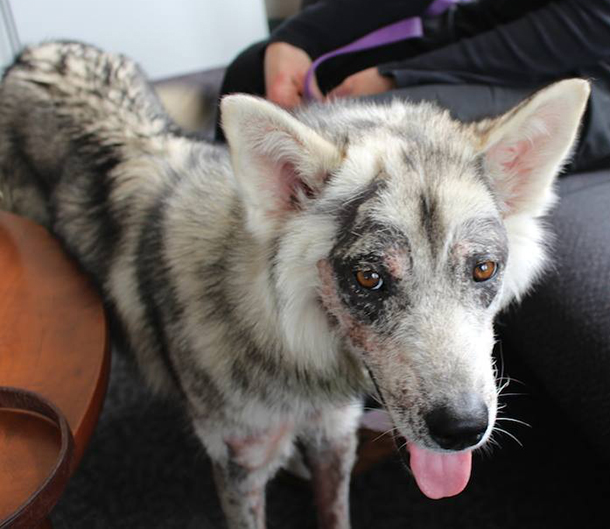 Phillie's story went up on IFAW Canada's Facebook page. Almost immediately, one of IFAW's supporters spotted her story and contacted Jan to inquire about adopting.
Nowadays, Phillie is happily settled in her new home. But her story does not end there, in fact, there were a few speed bumps along the way.
When she first arrived, Phillie suffered from severe separation anxiety.
She scratched and chewed her way through the front door – literally – and then again through an adjacent solid wall, waiting for her new mom to return home.
In addition, Phillie was a picky eater.
Her mom had quite a bit of trouble getting the dog to eat, until she discovered Phillie's love for fish. A few cans of high quality salmon later, and after lots of love and care, Phillie settled in quite nicely, started putting on weight, and turned into a "cuddly, quirky, goofball".
Her coat still showed signs of her skin infection. For several weeks, Phillie needed daily brushing to remove the thick undercoat, and to stimulate the oils in her skin.
Now, her fur is sleek and shiny, growing beautifully and almost at full recovery.
Once she adjusted to her new life, Phillie started really coming into her own. She is extremely playful, and loves chasing sticks and tearing apart stuffed toys. And she is sweet as can be, greeting new people by rolling onto her back for a belly rub.
"She is cheeky, trusting, playful, and oh-so-smart. I am over-the-moon in love with her" says Phillie's new mom.
It is stories like Phillie's, and the happiness she has brought to her new family, that make doing what we do so worth it.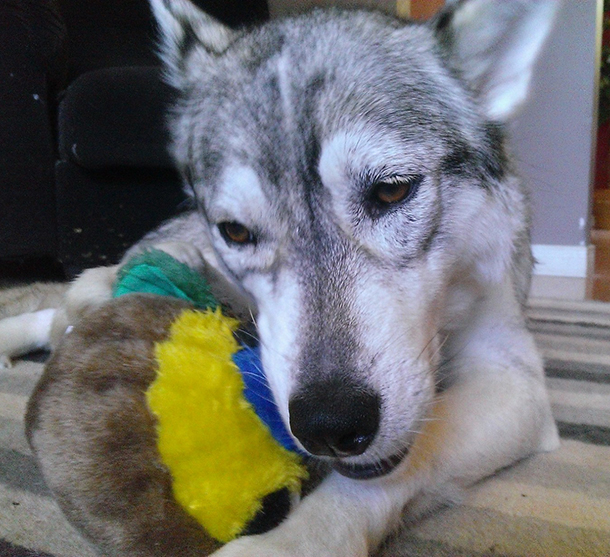 –EM
For more information about efforts with our Northern Dogs project in Canada, visit our project page.
GD Star Rating
loading...
Article source: IFAW