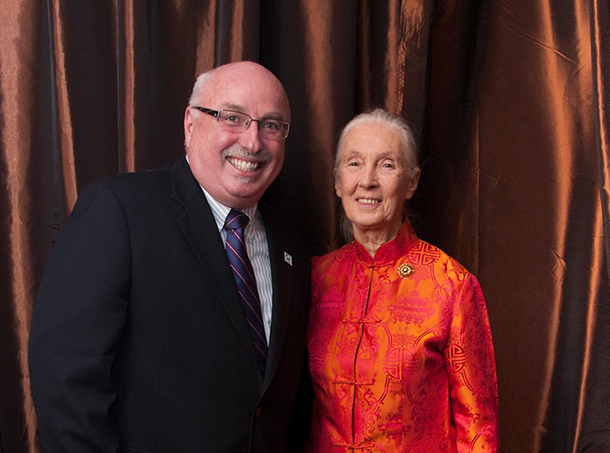 With all her wisdom and passion on a wide range of fronts, it is no surprise that Dr. Jane Goodall is the most preeminent voice in the animal welfare movement.
She may speak softly, but whatever message she imparts is a clarion call.
Founder of the Jane Goodall Institute and a UN Messenger of Peace, Jane has frequently collaborated with the International Fund for Animal Welfare (IFAW), most recently joining us to support the proposed U.S. ivory regulations.
Today, we make it official: Jane is joining IFAW as an honorary board member.
Jane has been a long-time advocate for wildlife, animal welfare, and the environment. Best known for her 45-year-long landmark studies of wild chimpanzees in Tanzania, she remains intimately involved in the welfare of the great apes with her support of sanctuaries, including Ngamba Island Chimpanzee Sanctuary in Uganda, of which IFAW is a trustee.
We have collaborated with her global Roots Shoots program for young people of all ages through IFAW's Animal Action Education.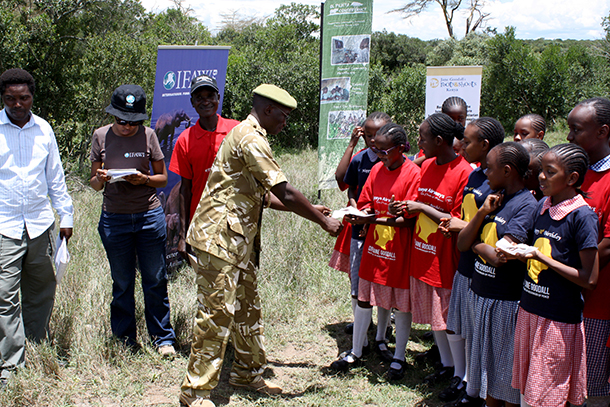 Her many inspiring accomplishments aside, Jane has an uncanny ability to provide clear, unwavering vision in complicated times, as well as to provide generous support to those of us honored to be among her colleagues.
Let me give you an example. After we had appeared together at a press conference at the Clinton Global Initiative meeting in New York more than a year ago, she quietly invited me to have tea with her.
Earlier in the day, there had been much discussion about complex policies and the cause/effect of trade regulations, demand reduction in China, and stopping the ivory trade.
 She sipped her tea, looked me in the eye and said, "You know Azzedine, you are the one with heart up there.
Your organisation talks about the elephants."
"Talk about the elephants," she said.
She can strip away all the complicated distractions and convince you that you do have the energy to keep going, to not get discouraged. Just "talk about the elephants." Those four words, however so simple, will provide me inspiration for as long as I live.
We share the desire to create something, not just protest something, to motivate people to be better, not condemn them for failing to do good.
This announcement is coupled with another important one.
HRH Princess Alia Al Hussein of Jordan, the daughter of the late King Hussein of Jordan and Sharifa Dina bint 'Abdu'l-Hamid and the founder of the Princess Alia Foundation, a non-governmental organization that "works to promote the balance, harmony and respect for all creation," is also joining our honorary board today.
Princess Alia and Jane join IFAW's other honorary board members Keely Shaye Brosnan, Pierce Brosnan, Leonardo DiCaprio, Manu Chandaria, Christopher Matthews, Harold Prince, Ben Stein, Amber Valletta and Goran Visnjic.
IFAW is honored to welcome these two iconic animal welfare representatives to the organization, and we will no doubt benefit from their guiding knowledge and insight.
–AD
For more detailed information about our Honorary Board membership, click here.
GD Star Rating
loading...
Article source: IFAW