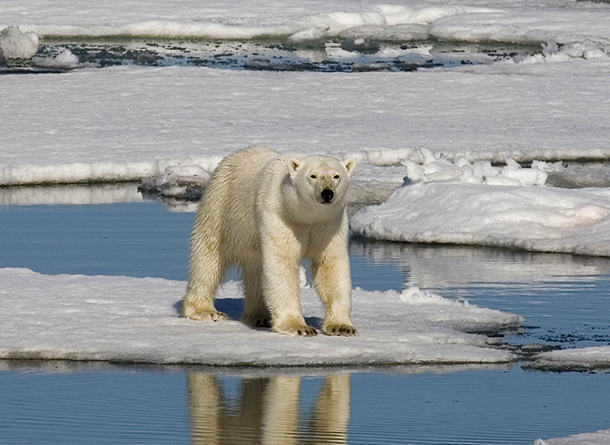 At the 11th Conference of Parties of the Convention of the Conservation of Migratory Species (CMS) of Wild Animals in Quito, Ecuador this week, the International Fund for Animal Welfare (IFAW) will be following a number of species listing proposals quite closely.
A handful of IFAW representatives—CEO Azzedine Downes, Russia CIS Regional Director Dr. Maria (Masha) N. Vorontsova, Germany Country Director (and our resident shark expert) Dr. Ralf (Perry) Sonntag, communications officer Michael Booth and I—will converge on this Latin American city to champion the animals.
As the international body reviews protections on scores of avian, terrestrial and aquatic species, IFAW will be supporting specifically 21 migratory shark and ray species for listing in Appendices I and/or II as well as proposals on listing polar bears and African lions on App. II.
IFAW has long been following the plight of these particular animals not only in this forum, but in various Convention on International Trade in Endangered Species of Wild Fauna and Flora (CITES) meetings as well. And on account of our expertise, we assisted in the drafting of a number of the proposed resolutions, like the one on sharks and rays.
Dr. Bradnee Chambers on the upcoming 11th Conference of the Parties to CMS.
Sharks and rays:
Shark and ray species, including the popular hammerhead, the often-overlooked sawfish and one of the largest rays in the world—the reef manta—are highly migratory and inherently vulnerable to overexploitation due to their low breeding productivity. They are increasingly endangered due to unsustainable targeted and incidental fishing.
We strongly urge CMS parties to support the inclusion of these species on the proposed CMS Appendices I and/or  II which is in line with our precautionary approach. The listings could facilitate regional cooperation, protect populations and habitats and bolster much-needed recovery efforts.
Allied proponents include Ecuador, Costa Rica, Paraguay, Egypt, Kenya, and the EU as well as NGOs Shark Advocates International, Humane Society International, Defenders of Wildlife, Project AWARE, , Shark Trust, Shark Savers, Manta Trust and PEW.
Polar bears, one of the mightiest predators on Earth, are gravely threatened by climate change, sport hunting, and the unsustainable commercial trade of its fur.
IFAW sees the need to support protection for polar bears. But while a CMS App. II listing is a step in the right direction and brings attention to the threats facing polar bears, it doesn't ultimately provide sufficient conservation action.
The threats facing African lions, classified by the IUCN as vulnerable, are numerous, including trophy hunting, habitat destruction and fragmentation, loss of traditional prey species, disease, and conflict with humans. We advocate the inclusion of the African lion in CMS App. II (which is a good step towards better protection, though such a listing doesn't ultimately provide sufficient conservation action for African lions).
IFAW will also be observing action taken on institutional decisions like the Strategic Plan 2015-2023, which will drive the overall  direction of CMS for the next eight years, and the draft resolution, Enhancing the Relationship between the CMS Family and the Civil Society, which formally recognizes the role of NGOs like IFAW in the triennial convention.
–PP
Stay tuned for more updates from the team including IFAW CEO Azzedine T. Downes who will be in attendance at this 11th Conference of Parties in Equador.
GD Star Rating
loading...
Article source: IFAW