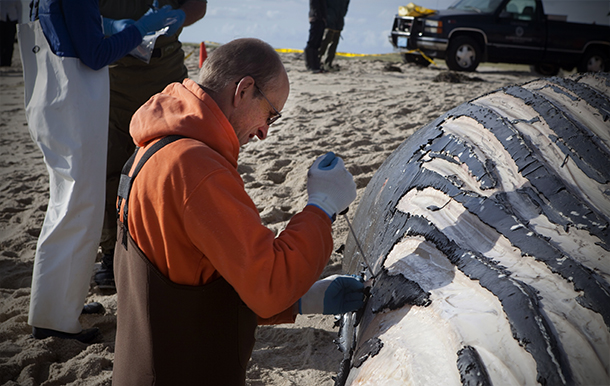 While doing marine mammal rescue work for the past two decades, I've met some pretty dedicated people "in the business." Scientists by trade and advocates by heart, these great people are not always known to the public as they work tirelessly behind the scenes to make a difference. 
But one of these remarkable individuals—a good friend and mentor—has just stepped into the spotlight.
Last week, the Boston Globe published the most compelling long-form piece of journalism I think I have ever read: an in-depth multi-media profile of Michael Moore, who in addition to serving as senior research specialist and Director of the Marine Mammal Center at the Woods Hole Oceanographic Institution is also the veterinarian for our Marine Mammal Rescue and Research team at the International Fund for Animal Welfare (IFAW). 
He has been with our team since we first began as the Cape Cod Stranding Network in 1998. In fact, he hired me as the first Stranding Coordinator. (Although we share the same name, there is no relation.)
I wouldn't be where I am today were it not for Michael.
More importantly, I wouldn't be who I am today without Michael. 
What sets him apart from many of the other marine mammal researchers in the world, at least for me, is his consistent focus on animal welfare.  Although we all hope our work will contribute to the conservation of these threatened or endangered species, some of us can lose sight of the details in the effort to solve the big problems.
The details in this case are the individual animals that we see every day stranded on the beach or injured at sea.  And Michael knows that.
READ: The Boston Globe's "Chasing Bayla"
Michael, a veterinarian as well as a scientist, specializes in studying large whales and in particular, in conducting necropsies (animal autopsies) to determine the cause of death.
I've worked side by side with Michael on many necropsies. It is physically exhausting work. Over the years, it is emotionally draining as well, for many of these animals die from human interactions.
Entanglement in fishing gear and marine debris is one of the most common findings for cause of death for the endangered North Atlantic Right Whale.  Michael has been a consistent voice bringing to light the fact that entanglements are a slow, painful, horrific death sentence for these animals.
It is cruelty that is impossible to deny, and yet goes unseen by most of the world. Entanglements, along with ship collisions and harmful ocean noise, are threats to all species of cetaceans.
I am so grateful for the opportunity to have worked with Michael so many years ago as my career was starting and to learn from his wisdom. I am grateful to still work closely with him today. Each and every day, I share his knowledge with others—colleagues, volunteers, interns. 
I have no idea how it happened, but someone very smart thought Michael's story was a story that should be told. After I read it, I sent it to every IFAW staff member around the world. I posted it proudly on my Facebook page.
The first person to respond was my mom. She said it best: "What a well-written tribute to a man who walks quietly through life. For a man who spends time on the ocean, he makes few waves but leaves a wide wake."
–KM
You can read more about Michael Moore in The Boston Globe's "Chasing Bayla"
GD Star Rating
loading...
Article source: IFAW