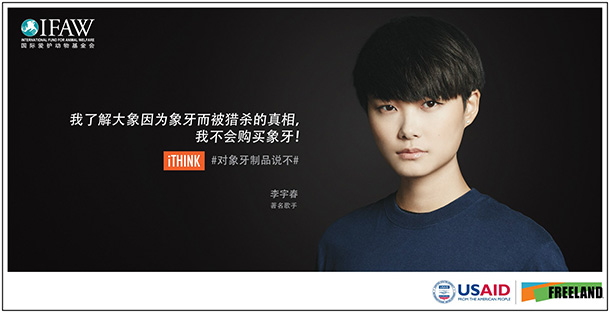 I saw you in 2012 on the Africa savannah, full of intelligence, strength and life…
Since witnessing the majestic elephants on a safari trip to Africa, Chinese pop star and 2005 singing contest Super Girl winner Li Yuchun makes an emotional plea in a brand-new public Service Announcement (PSA) by the International Fund for Animal Welfare (IFAW):
Will I see you again in ten years? If we don't stop buying ivory, the good-bye will be forever!
Yuchun is one of a dozen celebrities and Key Opinion Leaders (KOLs) who have joined IFAW's multi-platform campaign "Give Peace to Elephants; Say No to Ivory," stigmatizing ivory consumption in China.
Collectively, the voices from these KOLs are calling on:
individual consumers to reject ivory products,
the government to ban ivory trade, and
artists to stop carving ivory.
The campaign PSAs will appear both outdoors and indoors, online and offline in a media blitz across the country in the coming months. It is made possible by support from over a dozen Chinese corporations and media agencies such JCDecaux China, Balintimes Media Group Co., Ltd., TOWONA Media Group, ifeng.com, youth.cn, hope.huanqiu.com, DEEP and LADY magazines. (The media platforms and PSA placements provided to the IFAW campaign represent in-kind value in the tens of millions of US dollars.)
Wednesday night, the International Fund for Animal Welfare (IFAW) kicked off the campaign at a gala event at the CPPCC auditorium in Beijing.
The event recognized the powerful voices from KOLs to influence peers, friends, families and fans. It acknowledged the tremendous impact from more than a dozen media partners in amplifying the KOLs' voices in China.
In the jam-packed auditorium, which is a designated venue for government functions, IFAW partner Freeland Foundation CEO Steve Galster stressed the importance of the KOLs to ARREST—Asia's Regional Response to the Endangered Species Trafficking.
"Simply put, working together, we achieve more, faster. We become even faster and more effective when Key Opinion Leaders lend their sincere and convincing voice to our campaigns," he said.
The highlight of the gala was the recital of a poem, "lament of an elephant calf" by 9-year old Peng Minghui and Miao Yixin. The young girls' recital, accompanied by a sand painting portraying an elephant slaughter scene on the Africa continent, moved many people to tears.
Aided with augmented reality technology, an African elephant then appeared miraculously on stage and extended her trunk to the girls, trumpeting and stomping her feet in greeting.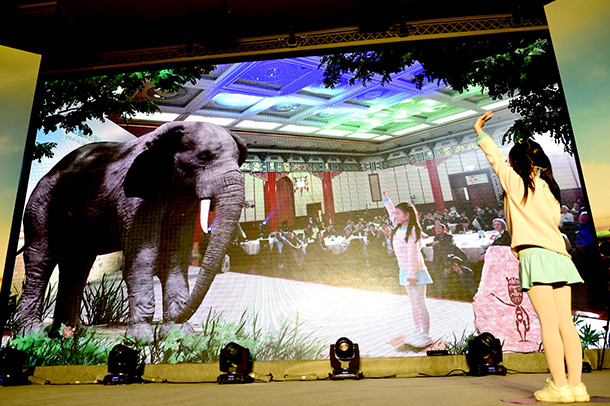 This elephant, named Laura, will travel to nine cities in China in the next few months as an ambassador for all elephants, echoing the messages of the Chinese KOLs.
It's incredibly exciting for me to see these prominent Chinese thought leaders coming from all walks of life, yet speak with one voice against ivory consumption.
They are social models with tens of millions of followers. People emulate them. People listen to them. And people will heed their call.  
Business tycoon and mountaineer Wang Shi, who is arguably the largest residential real estate developer in the world, says in one PSA:
As the strongest species on earth, we should protect others, not drive them to extinction. The desire for a small ivory trinket is wiping out elephant populations. Isn't that the ultimate shame on us?
Well-known art collector and appraiser Zhai Jianmin appeals in another:
The ultimate joy of a collector is to find a treasure. What then is treasure? Ivory to you is just an object, yet it comes from taking the life of an elephant. Do not take away the ultimate treasure of an elephant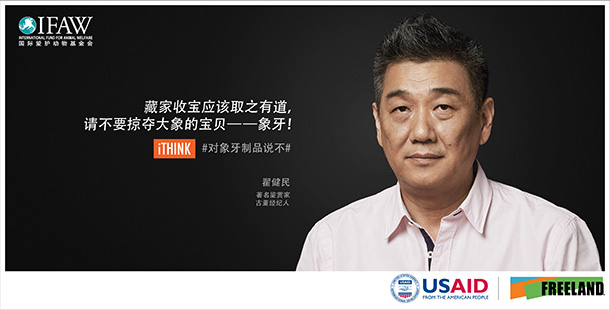 There are also messages from actress Wang Luodan and musician Xiao Ke.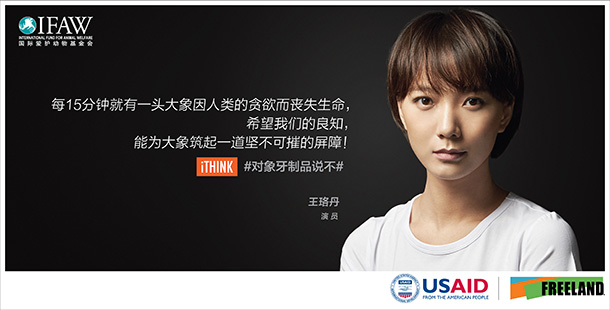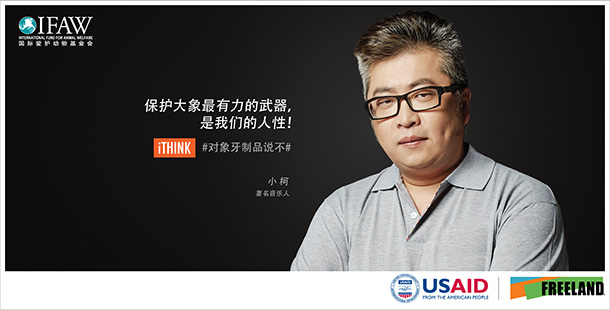 Religious leader Jia Cuo Rinpoche Buddha is another KOL, appealing for his followers to reject ivory. He said "Ivory is no excuse for killing elephants, a species as intelligent as us. I object to the use of religious artifacts made of ivory. Behind the white façade is the blood and evil of slaughter."
Sculptor and artist Yuan Xikun, who in March with basketball star and activist Yao Ming urged the Chinese People's Political Consultative Congress (CPPCC) to prohibit civil servants from giving and receiving ivory, both as gifts and as bribes, is also taking part in this campaign.
Other KOLs in the campaign include TV anchor Zhang Yue, prominent media executives Sun Mian and Li Ya, wildlife photographer Xi Zhinong, and famous playwright Shi Hang.  
In the past three years, more than 100,000 elephants were killed for the ivory trade. Elephants are dying, one every 15 minutes. 
The survival of Africa's elephants hinges on making ivory consumption socially unacceptable in China. We have no time left to lose.
Each and every one of our KOLs is a force.
Because they speak from their hearts, they can mobilize millions of people in China and around the world to stigmatize ivory in order to save elephants.
The launch of this campaign begins the movement for behavior change in China for elephants.
–GGG
For more information about our efforts to stop the ivory trade in China, visit our campaign page.
GD Star Rating
loading...
Article source: IFAW