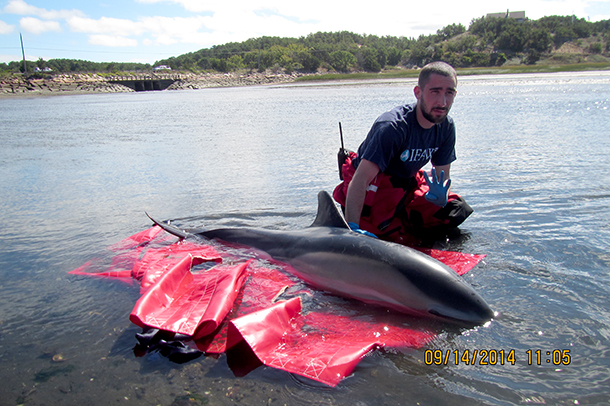 On the first day of November, IFAW's Marine Mammal Rescue team responded to two live stranded Common dolphins in Wellfleet, MA.
When we arrived, we noticed that both animals had been previously tagged. Dorsal fin matching and other natural markings quickly confirmed that these two animals had previously stranded at a nearby location along with three other animals almost 2 months prior, on September 14th. 
During that original stranding, one animal died, but four dolphins were safely moved to our trailer, given full health exams and transported for release off the tip of Provincetown, our ideal choice for these releases given its quick access to deep and open water. Before they were returned to the ocean, all four dolphins received identification tags and one also received a temporary satellite tag. Six weeks later, the satellite tagged animal stopped transmitting.
Typically, this is where an animal case file usually ends.
SEE ALSO: Leaving a wide wake
Despite re-stranding, the two dolphins were given thorough health assessments for a second time including blood analysis, and their weights were compared to the initial stranding.
For both dolphins, there was no significant weight loss and the blood parameters remained within acceptable ranges. In consultation with our veterinarian Dr. Michael Moore, it was determined that the animals met the criteria for re-release. The dolphin which had not been previously satellite tagged was affixed with one to help determine its survivorship after a second release. 
18 days have now passed and the satellite tagged animal is still transmitting its location. Once spotted almost 100 miles southeast of Chatham, the dolphin was last found to be 16 miles off the coast.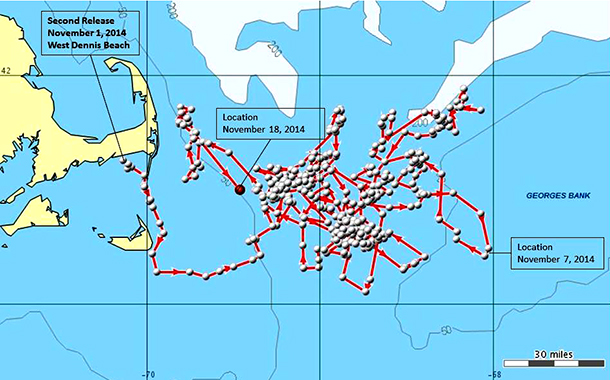 While we have released re-stranded dolphins before, the opportunity to collect additional data on released animals is rare and valuable opportunity.
This stranding marks the first time that more than three days had passed from initial release to re-stranding and a second release.
These animals re-stranded 48 days after the initial release and the satellite tag had transmitted for 41 days. 
When the animals were observed re-stranded, the original satellite tag and both plastic identification tags had pulled out from the trailing edge of the dorsal fin.  Prior to this stranding the thinking was that satellite tags that no longer transmitted were assumed to have failed or the animal had died.  With this stranding we must begin to question if some tags are falling out prior to the end of their battery life. 
While we hope we never see these animals stranded again, we are grateful for the opportunity to have helped them a second time and gain valuable data that will be beneficial for future responses.
—KP
For more information about IFAW efforts to protect marine mammals, visit our program page.
GD Star Rating
loading...
Article source: IFAW