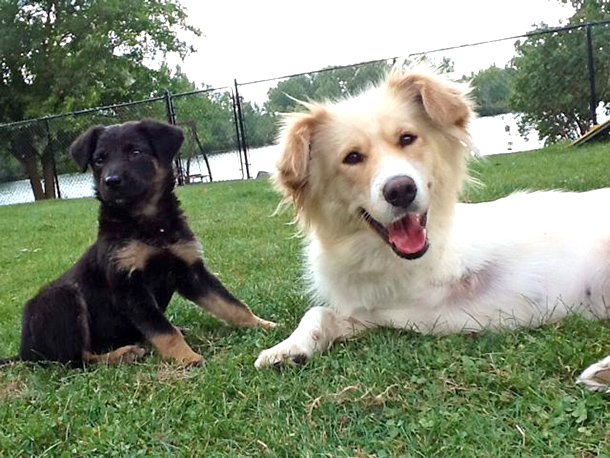 With Thanksgiving just around the corner, we're all thinking about family and the time we'll be spending with them. We get a lot of stories about families around here, but a short time ago I was told about one in particular that truly amazed me.
This is Ginger. As you might have noticed, she's missing a leg.
Ginger was found – with all four legs – with her own mother, along with two emaciated three-month-old puppies, in remote northern Canada. IFAW works with Northern communities to help improve access to veterinary services and increase awareness of good pet ownership.  We were contacted by a woman who wanted to transport them to us, thinking they were unowned. When it came time for her to leave with them, she couldn't find the little family.
Upon her return several months later, the woman discovered that the two mothers were now communally raising 24 puppies; two litters born within a week of each other. It appeared that the owners of the two dogs had been using them for breeding purposes, to attempt to profit from the sale of the young puppies.
It soon became clear that Ginger and her mother, Fancy, were suffering poor health from their constant pregnancies. As all mothers know however, their duties of motherhood carried on despite their condition. They worked tirelessly as a team to keep their young pups in line.
We estimate that together, Ginger and Fancy may have produced around 100 puppies. Ginger is only about 3 years old.
It's rare to see dogs working together to communally raise their young. This pair was certainly unique. But even working as a team, the two moms were overbred, exhausted and in desperate need of our help.
Our Northern Dogs Project Leader, Jan Hannah, was determined to get the family into her care, help the community member who was upset by the dogs' condition, and get the dogs out before there were any more pups. When the community member who had contacted us reached out to the owners of the dogs, they expressed interest in letting the dog family go. Of the 24 puppies, 15 had been sold or given away.  Nine remained, alongside Ginger and Fancy.
But when it was time to take the dogs away, the owner had decided to keep the dogs.
Time passed. Jan worried about the two dogs and the remaining pups only to find out that there was reason to be concerned–Jan discovered that Ginger had been badly injured. She was limping around on three legs. Her damaged limb hung uselessly at her side. The situation was becoming dire.
Finally, after a series of failed attempts to get the dogs into our care, and the diligent efforts of local community members, we had success! A partner who has helped us fly needy dogs out of Northern Canada in the past, Pilots and Paws, was able to fly Ginger, Fancy, and the one puppy who remained, down to Toronto to meet up with Jan.
Her leg was fractured in two places, and needed to be amputated. She went in for surgery.
Now Ginger is happily settled in a new home, with a new family. She has fully healed from her surgery, and is adjusting to life on three legs. An extremely easy going, mild mannered and sweet dog, Ginger has quickly stolen the hearts of her adoptive family, and her new canine-sister. Her adoptive mom, Marilyn, offered to foster her knowing she wanted to keep her.
"She settled in so easily" says Marilyn, who lives with her husband, their other dog Sadie, and three cats. She says they are a very happy, and furry, family. With both her own mother and her last pups adopted out into loving homes of their own, Ginger is enjoying her new life without all the parenting responsibilities.
As with most dogs who lose a leg, Ginger adjusted exceptionally well. She quickly learned to compensate for her missing leg, and was running and playing in no time. "People are constantly amazed at how well she does with three legs. They always stop and comment or ask me about it, because it's not a common sight… and I forget, you know?" says Ginger's new mom.
Marilyn says that Ginger has retained many of her motherly qualities. Although she loves to play, especially with chew toys, she is extremely gentle. She'll allow anyone – dog, cat, human – to cuddle her. "I think she would be a great therapy dog" she says.
Ginger's amazing story, like so many others that we hear every day, reminds us to be thankful for what we have, and to always keep family – old and new – close.
—EM
We're racing to build doghouses for dogs who are set to spend the frigid northern Canadian winter outside. We urgently need your help.
GD Star Rating
loading...
Article source: IFAW