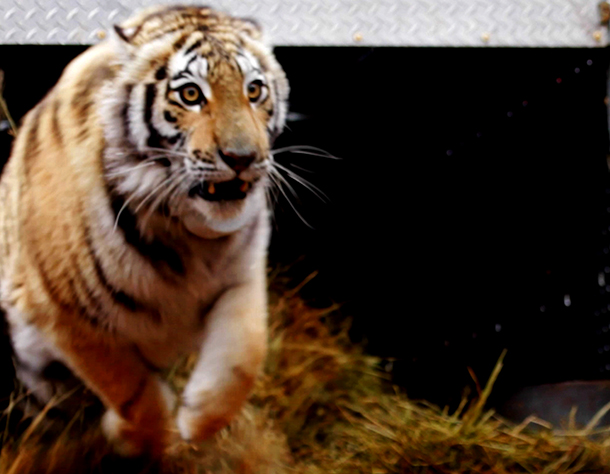 Five of the six Amur tigers released in the last two years through a multi-group collaboration are being closely monitored and living like wild tigers should in the forests of Far East Russia near the Chinese border.
Their movements are tracked with the help of satellite collar tags. Experts also periodically travel to the taiga and walk the tiger paths studying what and how much the tigers eat, whom they meet in the forest, and other important data that cannot be obtained through satellite monitoring.
Nicknamed "Putin's tigers" after President Vladimir Putin's participation in the March release of three of the five rehabilitated orphan tiger cubs, Kuzya, Ilona and Borya bounded free within the premises of Zheludinsky Wildlife Sanctuary in the Amur Region.
Two other young tigers, Ustin and Svetlaya, were released in June in Zhuravliny Wildlife Sanctuary of the Jewish Autonomous Oblast. Zolushka, released a year earlier, was the first successfully rehabilitated cub to be reintroduced into the wild as part of this history-making program,a collaboration between Special Inspection Tiger, A.N. Severtsov Institute of Ecology and Evolution of the Russian Academy of Sciences, Wildlife Conservation Society (WCS), Phoenix Foundation and IFAW.
Ilona, Borya and Svetlaya did not travel far and do not give any reasons to worry about their success in the wild. Ilona settled in the Khingan Natural Reserve in the Amur Region and is securely in control of her habitat. She even managed to force a pack of wolves out, as they are not able to share the same territory with a tiger.
She recently hunted at least three wild boar piglets within approximately two weeks. Pictures taken by trail cameras in the Khingan Natural Reserve show that she is in a good shape, agile and active. She approached the Chinese border quite closely, but did not risk crossing it.
Kuzya caused some concern when he crossed over to China. While we monitored him closely and had some worries, after more than a month there, it was clear he was thriving. After he crossed back over, he moved somewhat away from the border and is currently not far from Svetlaya. We think he may go back to China using the already known path. It would not cause a serious issue, as long as he chooses the same path again.
RELATED: Ustin the tiger returned to Russian rehabilitation center
Tiger wanderings are normal behavior of predators in search of new territory, which they attempt to claim for themselves and control independently. Such behavior is not primarily linked to a lack of food, i.e. wild hoofed animals, but rather it is a natural behavior in the period of maturity with the purpose of securing a permanent habitat.
Kuzya clearly could not coexist within the same territory with his brother Borya. Blood ties between predators do not contribute to lasting coexistence within the natural habitat and quite soon make way for territorial competition.
Zolushka is doing well and continues to live in the Bastak Natural Reserve. Soon a post-monitoring group will travel to check on her, and we will learn a bit more about her everyday life.
—AF
For more information on IFAW efforts to protect the last of the world's wild tigers, visit our campaign page.
GD Star Rating
loading...
Article source: IFAW