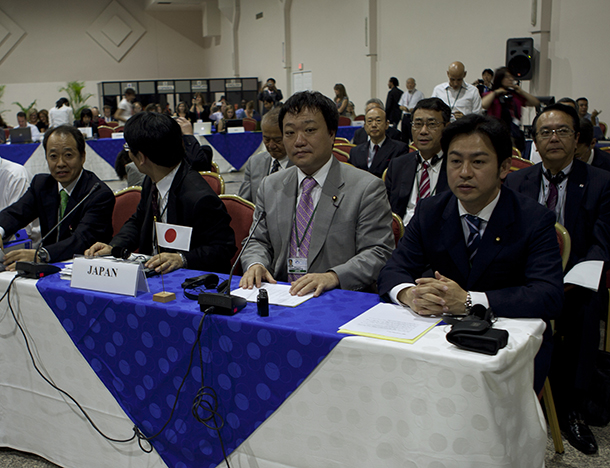 New Year's Greetings, Whale Huggers and others,
2014 was a year of unprecedented, positive developments for anyone who cares about finally ending commercial whaling and protecting whales in the 21st century. 
Here's hoping, barely a week in to 2015, that you're showing more respect for your New Year's resolutions than Japan Fisheries Agency bureaucrats show for those passed by the International Whaling Commission (IWC)!   
As for the year ahead, I've told friends and colleagues from IFAW's online team that I am resolved to blog more regularly over the next twelve months on a range of topics related to whales, their welfare, and the state and fate of the ocean planet we all share. 
To kick things off, this persistently optimistic veteran of the battle to end commercial whaling is making a few bold predictions for 2015. First up, Japan's high-seas whaling. Wait for it . . .
The Government of Japan will NOT defy international opinion and court order and send its fleet to kill whales in Antarctica later this year. 
That's right.
They're not gonna' do it.
You may disagree. You might say I'm crazy. But you can't  say I'm wrong 'til  this time next year! Grant me this: seismic shifts are going on beneath the surface of the Japanese Government's insistence that they will return to Antarctic whaling. 
Here's the context: On March 30, 2014, the International Court of Justice ordered Japan to halt its lethal "research " whaling program, known as JARPA II, in the Southern Ocean Sanctuary around Antarctica. 
As a result, just last week, Japan sent its whaling ships steaming toward those waters to engage in NON-lethal whale research. Acting under court order or not, Japan's leaders should be congratulated on this decision which will make the 2014/15 whaling season the first one in more than a century in which  no whales will  killed for commercial purposes in the Southern Hemisphere. This is cause for celebration and encouragement. And it doesn't stop there.
In June,2014, whale watch operators from Hokkaido to Okinawa gathered in Tokyo to launch the Japan Whale and Dolphin Watching Council (JWDC), a new association of ecotourism operators representing the now 200-plus small, medium and large whale watching businesses now providing profits and economic benefits to coastal communities around the country.
By the end of October, 2014, all six leading Japanese news dailies had published editorials calling for reconsideration of Japan's Antarctic whaling. Two of the most prominent, Asahi Shimbun and Mayanichi Daily News both called for the Government to end it. 
Can I get a "Banzai!"? After three decades of stagnant support for "scientific" whaling, this is change.
Buckle up, there is more on the way.
Battered but unbowed, Japan Fisheries Agency officials have now concocted a "new" lethal Antarctic research plan (cleverly entitled "NEWREP") which they claim will comply with the judgment of the world's highest court.
Color me and many others who have read it skeptical.   
Some 120 days from now, the world's top whale scientists will gather in San Diego, California for the annual meeting of the Scientific Committee of the IWC. 
This global gathering of pointy-heads must carefully review Japan's NEWREP proposal — which actually envisages a larger take of whales in an expanded Antarctic killing zone – and provide advice for subsequent action by the full Commission. 
Insiders advise the proposal which many unimpressed reviewers are calling " JARPA III" will get a very rough ride in San Diego.
There's a lot of lipstick on the NEWREP pig, but it's hard to envision scientists Japan isn't paying bending over to kiss it.
For these reasons, and others known only to them, I predict Prime Minister Shinzo Abe, Japan's very able, freshly re-elected leader, and his Liberal Democratic Party (LDP) governing coalition will bow neither to pressure from the press, nor to international diplomatic pressure.
Instead, he and his government will decide, in their own time and for their own reasons, NOT to resume whale killing in Antarctica because they will deem that decision to be in Japan's best interest.
Sure, savvy Prime Minister Abe is perhaps the most consistently pro-whaling PM of the post-war era, but he also has much bigger fish to fry.
He has staked his political life on beating back the deflation dragon that has bedeviled the Japanese economy for the past 20 years and the passage and implementation of long overdue economic reforms.
Abe-san knows that the eyes of the global community are on him and Japan, and that he will be judged by his ability to turn the economy around. 
He also knows global scrutiny will only increase in the run-up to the 2020 Tokyo Olympics.
Prime Minister Abe is not only arguably the only Japanese politician who has enough credibility with the shrinking pro-whaling lobby to pull this maneuver off, he also knows his bigger vision for Japan cannot include support for Antarctic whaling.
Not gonna' do it.
Only time will tell, of course.
But you heard it here first!
Happy New Year!
—PR
GD Star Rating
loading...
Article source: IFAW