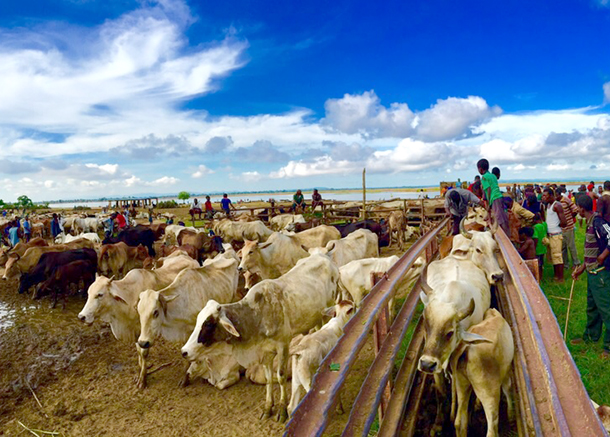 Last month raging floods hit Malawi, a small country in southern Africa. They have been described to us as the worst in living memory – "These will be the floods we will refer to, when the next bad ones come," Dr Danny Chinombo, a veterinarian with the IFAW team told me philosophically.
In the last few days the thing that has shone through for me is the grace and friendliness of ordinary Malawian people. We have visited evacuation camp after evacuation camp where, despite the best efforts of humanitarian organisations, conditions are frankly, awful. Yet people smile, are pleased to sit and chat to a stranger with her questions and camera.
You would think that six weeks after the cyclonic flooding turned the Shire and Rua Rivers into cauldrons of swirling water, life would be returning to normal.
Not so.
The south of the country was worst hit and in Nsanje district the shallows of the floodwaters lapping at the edges of destroyed villages, are a full 15 kilometres away from the actual Shire River. People and farm animals remain marooned on pockets of land surrounded by the floodwaters, and are provided with food and water by the World Food Programme's Sikorsky helicopters, which thrum constantly overhead.
We met Jonas Nyamizinga, a tall, gangly man dressed in clothes provided by an aid agency. In the West this man would be feted as a hero. Here he is just another resident of the UNICEF camp at Bangula, who did what he had to do to save his two wives and eleven children – and 80 others from the flooding.
Prior to the floods, he was a relatively wealthy man.
Now he is "poor" – all his cattle, his goats, 28 chickens and 14 ducks were washed away in the floods.
"It was January 12, the floods came in the middle of the night. There was no warning so we did not know to escape," says Jonas.
Jonas' village was on higher ground in the Elephant Swamps of the Shire Valley. He pushed his wives and children onto the roof of their little house and into the trees.
Then he began the rescue.
In his dugout canoe, he paddled two hours to deliver the first of his children to safety. Then back for more, and back again. At one point, his canoe was lost and he borrowed one from a brother.
In all he paddled all night and most of the next day to rescue his fellows.
Makanga, on the east bank of the Shire, was one of the worst hit areas. This was the place that IFAW's flood relief team had targeted for its first intervention to vaccinate cattle at risk from diseases caused by malnutrition and wet, swampy conditions.
Leaving at about three o'clock in the morning, it takes us four hours to travel the 60 kilometres to Makanga.
Leaving in convoy we ford more than 15 rivers where the bridges have been washed away, and the litter of boulders flushed down the mountain sides by torrential rain makes it look like the river beds have got lumpy skin disease, never mind the wild scatter of cattle we are about to treat.
There were a few "this is insane" and "I've got to take this vehicle where?" moments but, in fact, local youngsters had marked out safe passage routes through the rivers with big rocks so all went well, even in the dark.
Fingers crossed, we haven't yet had a tyre blow on us.
Finally reaching Makanga Village, we eased down a track down to the local cattle crush, which now lies along the high tide mark of the flood waters. The sight was astonishing and a real testament to the efforts of the local Malawi para-vets who had spent the previous days on their bikes and motorcycles letting local herdsmen know that IFAW would be vaccinating and treating cattle against the common diseases that wet conditions on this scale encourage.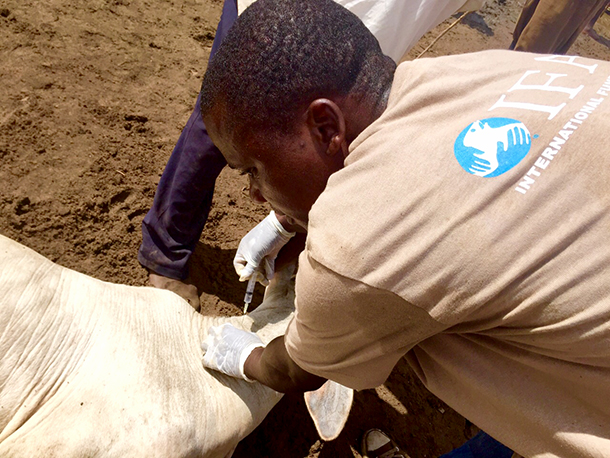 Cattle and small farm animals are the capital wealth of the southern Malawi subsistence farmers. They put their children through school, feed and clothe the family, hence the despair of so many who lost their animals – with at least 91,000 swept away, and some officials saying the real figure might be closer to one million lost animals.
Over 2,500 cattle showed up on day one.
It was simply astonishing.
Viewed as a whole it looked like one massive herd. But, in fact, it was dozens of herds.
Each group of cattle – they are handsome creatures, Brahman mixed with the local Malawian Zebu, and have immense presence – stayed with its group, watched over by herdboys. But all the herds pretty much huddled together until after the health checks and vaccination procedures were over.
Things began with Dr Danny Chinombo and Dr Julius Chulu, of the Ministry of Agriculture, explaining to local headmen the purpose of the visit. Niceties over, and it was time to begin. Lots of bellow protests ensued, and the odd herdboy went flying in the process of getting the cattle into the crush, but all went well.
By early afternoon temperatures had reached the high thirties (about 100° Fahrenheit), the cattle were hot and thirsty, the air was thick with humidity and it was time to call it a day.
We bounced back along the dirt and, by this time, every river was filled with women doing their washing, collecting water and dozens of children doing what kids do best when sparkling water is available to splash about in.
In fact, if there is one upside to all this devastation, it is that – for the moment, anyway – women don't have far to walk to wash clothes in clean water or to bathe their little ones in.
Tomorrow we will be moving to another area, identified as the second worst hit in the floods. We will be vaccinating cattle, and beginning an intensive rabies vaccine campaign for local dogsBut one last thing, none of this effort – whether it be that of the dozens of humanitarian relief groups who are here, or the work of the team vets and para-vets that have been put together by IFAW to help with get displaced communities back on their feet – would be possible without the support of caring people in far away places.
The people of Mkanga and Nsanje, Jonas who lost his farm animals, Robert who carried his 72-year old mom in chest high water to safety at a local school, Esnath who gave birth to baby Joseph just a few days ago, and thousands of others, they all thank you.
–CP
You can help, donate now in support of IFAW efforts.
GD Star Rating
loading...
Article source: IFAW