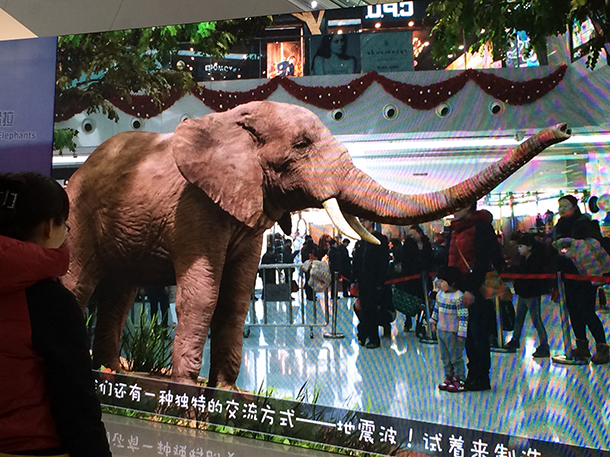 "There is an elephant. I want to play with the elephant", a little boy excitedly announced while dragging his mother towards the foyer of the Ruffles City shopping mall in Beijing.
There, on a big screen with throngs of shoppers in the background, an elephant appeared under a giant acacia tree, extending her trunk to invite shoppers to interact with her.
For the first time ever, Chinese urban residents had an opportunity to interact with an African elephant at a most unlikely place, a shopping mall.
The elephant is named Laura, she is the ambassador for IFAW's anti-ivory trade campaign "Give Peace to Elephants, Say NO to Ivory".
Laura reaches out to grab some leaves…and a young girl reaches out to touch her huge trunk.  
Laura takes a mud bath…a Chinese man imitates her as if taking a bath himself.
Laura lifted one foot inviting a boy to stomp their feet together…the ground shakes as their feet touched down at the same time.
At the end of January, on one of the busiest shopping weekends in China right before the Spring Festival, I watched Laura officially making her public debut aided with augmented reality technology.
It was only a short four months ago when we finally secured funding to develop an augmented reality elephant.
To be honest, I was not totally convinced about the technology and what an augmented reality elephant could achieve.
However, my young, talented and tech-savvy staff convinced me otherwise.
"Most Chinese people have never seen an elephant. How powerful it would be if we can bring an elephant up close and personal into the lives of urban residents!" they said.
They are absolutely right!
Observing the excitement on children and adults' faces as they stay in line to wait for their turn to play with Laura, I know each and every one of them will stand up for Laura and all the other elephants in rejecting ivory consumption.
–GGG
Learn more about IFAW efforts to combat illegal wildlife trade on our campaign page.
GD Star Rating
loading...
Article source: IFAW