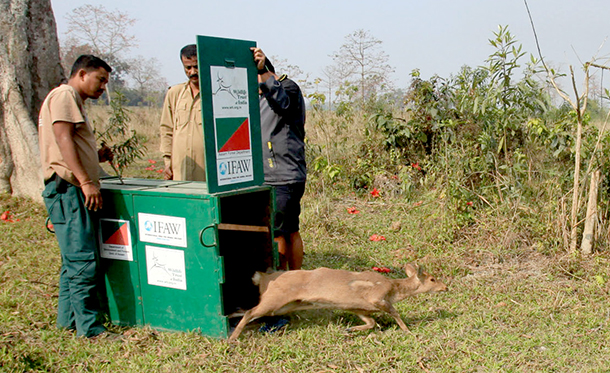 Two hog deer that strayed into fringe villages were rescued by locals in back-to-back days and released back to the wild in Kaziranga National Park by our IFAW-WTI team. The rescues, assisted by local villagers, are a heartening proof of the community taking positive action for conservation.
The first case involved a female hog deer found in Bokoli village. The deer had strayed out of the park and was luckily saved by a group of local villagers. The local Village Defence Party (VDP) kept the animal safe in the courtyard of a house in Bokoli village and immediately informed the park authorities.
The IFAW- WTI team, based at the Centre for Wildlife Rehabilitation and Conservation (CWRC) was alerted by the Kaziranga control room for immediate response. With no visible injury to the animal, the team shifted the deer in a cage and drove it to an optimum release site at the Agoratoli range of Kaziranga National Park.
A day later, another female hog deer was found by the villagers of Dhansirimukh Bohikhowa. This deer was rescued by villagers from a paddy field where she was being chased by domestic pigs early in the morning. 
Interestingly the fringe villagers kept the deer's eyes covered with a cloth to keep her safe from fear psychosis, which indicates a high level of awareness among the community. This change in attitude points to a successful series of wildlife awareness campaigns conducted by IFAW-WTI in the fringe villages of Kaziranga conducted before the Monsoon flood season last year.
—VM
After our team's swift action, deer was released, watch the short video of the release below:
GD Star Rating
loading...
Article source: IFAW