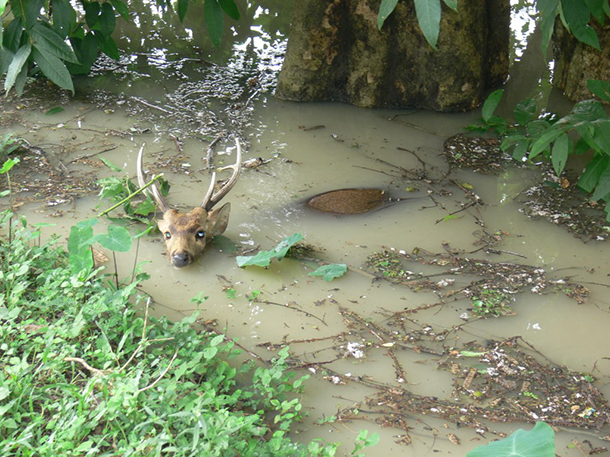 With the threat of floods looming large, the IFAW-WTI team based out of  the Wildlife Rescue Center in the outskirts of Kaziranga National Park monitored the areas day and night until the water level reduced.
Every year, during the monsoon, hundreds of animals are swept away by the rising waters of the Brahmaputra River. Many more flee to higher ground and stray into villages, tea estates and highways quickly coming into conflict with humans. Elephants, rhinos, deer, and many other iconic species are inevitably affected by the floods.
Veterinarians Dr. Rathin Barman and Dr. Bhaskar Choudhury accompanied the teams during their daily forays around the park.
Fortunately, no calls for animal rescues related to the floods have come in, but the team is prepared.
The Park authorities have been kept in the loop regarding the flood awareness work plan and they have enforced the Time Card system of monitoring speeding vehicles as a regulatory measure.
In the past, interactions with villagers, followed by Do's and Don't's distributed on handouts were the norm preceding the annual floods. This year's pre-flood awareness activities are more area specific and subjective, specifically targeting vulnerable localities where animals often cross over to high ground and villages believed to house poachers.
Significant among the targeted villages was Bohikhowa, notorious for harbouring criminals, under the Agoratoli Forest Range of Kaziranga. The team conducted an awareness campaign at the Dhansirimukh High School, the hub of the adjacent villages, to spread the message to families through children and youth who attended the three sessions that covered all students.
At the end of the session, the teachers openly spoke out about the ills of wildlife poaching and urged the students to tell their parents to desist from poaching.
We held similar direct meetings with the villagers of Tamuli Pathar, Japori Pathar and other adjacent villages.
Our next plan is to motivate the tea-garden workers living in the vicinity of the park. We have already planned to hold a meeting at Methoni Tea Estate. Located close to our wildlife rescue center, the workers and staff know of our presence in the neighbourhood and have regularly informed us about animal movement in the past.
The IFAW- WTI team targeted local youth with hands-on training followed by mock-drills on conducting rescues. Already four such groups have been trained and these youth will be called to assist the core team during a flood emergency.
It is heartening to see entire schools eager to learn and teachers taking the onus of appropriate messaging on conservation action.
–SB
GD Star Rating
loading...
Article source: IFAW