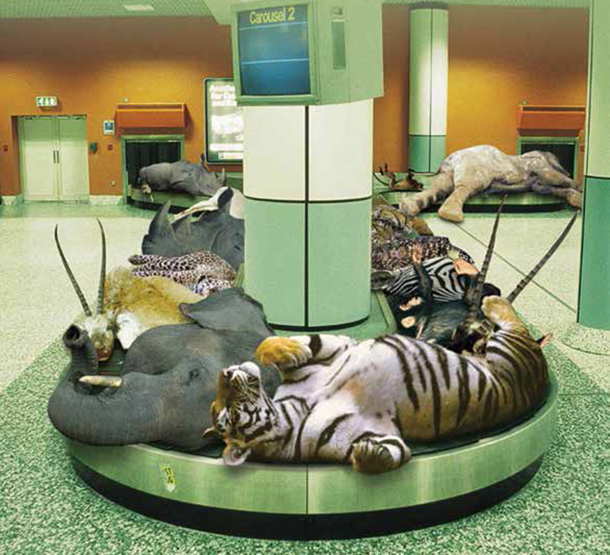 In the wake of Cecil the Lion's brutal killing, the world has turned its attention to the barbaric practice of trophy hunting and the plight that rare and endangered animals face, especially in Africa. And that uproar is already being channeled into meaningful change.
Delta, United and American airlines, reflecting the wishes of the vast majority of Americans who oppose hunting of imperiled species as seen by a popular Change.org online petition, announced they would ban all shipments of lion, leopard, elephants, rhinoceros and buffalo trophies, effective immediately.
Effective immediately, we will no longer transport buffalo, elephant, leopard, lion or rhino trophies.

— American Airlines (@AmericanAir) August 4, 2015
.@Delta bans shipment of lion, leopard, elephant, rhino, buffalo trophies @DeltaNewsHub http://t.co/ZrAPBTqIQh

— Delta News Hub (@DeltaNewsHub) August 3, 2015
The International Fund for Animal Welfare applauds these actions, which send a clear signal to the world that Americans are staunchly opposed to trophy hunting of imperiled species.
In prohibiting the transport of these majestic creatures, these carriers are taking a stand against both legal and illegal hunting trophies. Indeed, part of the problem is that it is difficult to distinguish between legally hunted animals and illegally poached ones. These new policies help prevent the possibility of mistaking endangered or protected animals as legal and then shipping them around the world to decorate some hunter's wall or mantle.
Delta, United and American join an increasingly large group of carriers to crack down on the transportation of hunting trophies. Last week, Air France, KLM, Iberia, IAG Cargo, Singapore Airlines and Qantas made similar changes to their rules.
And yet, some airlines have backpedaled on the issue. In April, South African Airways (SAA) banned trophy cargo when an illegal shipment of elephant tusks was discovered in Australia, and Emirates, Lufthansa and British Airways later announced bans. Since then, reports have stated that SAA lifted its ban and has begun transporting trophies again.
Since Americans account for over half the lions killed for sport every year (more than the rest of the world's hunters combined), their policy change is a significant step forward to ending the US's role in depleting an already disappearing species.
Around 32,000 African lions remain in the wild, and many scientists say it could be even fewer. At this point every individual, like Cecil, matters.
Please join IFAW in thanking Delta, United and American Airlines for their brave moves, by going to their Facebook pages and posting your congratulations.
 —JF
Tell the USFWS service to immediately stop imports of lion trophies and to finalize its proposal to list the African lion under the US Endangered Species Act.
GD Star Rating
loading...
Article source: IFAW