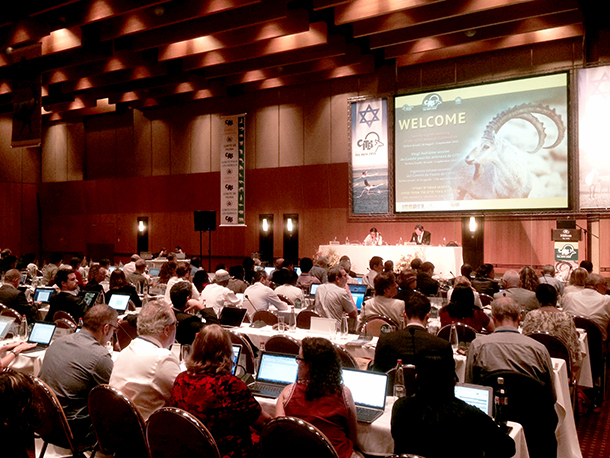 After five days of long, hot and sometimes heated meetings in Tel Aviv, Israel, it seems that the possibility of future increased protections from trade for pangolins and devil rays looks possible, but those for polar bears, sharks and lions are still up in the air. 
The 28th CITES Animals Committee meeting of government officials, scientists, and both wildlife trade-proponents and animal protection groups, could lay the foundation for what species might be proposed for greater or lesser protections at the next CITES (Convention on International Trade in Endangered Species of Wild Fauna and Flora) Conference of the Parties, which is slated to take place in South Africa, 2016.
The Conference could have a number of interesting proposals for protections, including efforts involving rhinos and elephants that were not discussed at this particular meeting. However, talks on the status and management of polar bears, lions, sharks, snakes, parrots and pangolins dominated this meeting, and the results were mixed.
The most disappointing outcome was probably on polar bears, where an active debate occurred surrounding whether Canada's polar bear management system – the only one in the world allowing commercial harvest of this imperiled species – required review.
The review was offered as a compromise brokered by the EU during the previous Conference of the Parties. The United States had tried to get international protections for the imperiled polar bear from unsustainable trade, but lost in the face of livelihood arguments raised by Canadian Inuit who sell polar bear skins and trophy hunts as a means of income. 
Unfortunately, EU countries like the Netherlands, Portugal and the UK immediately backed down from even this basic attempt to evaluate Canada's killing of polar bears, and supported a withdrawal from trade review, supported by South Africa, Mexico and World Wildlife Fund (all entities that opposed greater protections for polar bears at the last Conference).
Despite an attempt by the US to keep the species in review, which was loudly and actively supported by groups like IFAW, Natural Resources Defense Council and Humane Society International, the decision was made to remove Canada's polar bear management plan from oversight. What this will mean for the possibility of greater protections for polar bears at the next Conference is unclear, but signs are discouraging.
In other fronts:
Following the enactment of much-needed new protections for a suite of shark species at the last Conference, there appeared to be little appetite for more shark protections at the upcoming Conference of the Parties.
There was active discussion about protecting Devil rays, a family of large fish also known as Mobula rays.
Two species of African pangolins – giant pangolins and tree pangolins – were reviewed, and a representative from the CITES Secretariat made the significant statement that it is likely Parties will be proposing increased protections of this much traded and highly endangered taxa at the next CoP.
Lastly, following the global attention focused on lions after the tragic killing of Cecil the Lion in Zimbabwe this year by an American trophy hunter, there was a discussion on lion populations and protections.
A new report by a committee of global scientists found an overall 42% decline of the lion species over the last 21 years, with less than 20,000 individuals left (recalculated from 32,000 estimated just two years ago).
However, the scientists recommended when evaluating the population status that four southern African countries be removed from the calculation, thereby leaving a much larger 62% decline over 20 years for all other populations, which gives a truer picture of how bad the situation is for this iconic large cat.
Given this information, it is possible lions may be proposed for greater global protections from trade at the next Conference.  
—JF
GD Star Rating
loading...
Article source: IFAW