"Blood Lions," a documentary that exposes the South African canned lion hunting industry, will premiere on US television on tomorrow, October 7, at 10 pm ET on MSNBC.
In the wake of the tragic death of Cecil the Lion this past July, this timely film reveals yet another dark dimension to trophy hunting, an industry already morally bankrupt and long overdue to be relegated to the history books.
This documentary uncovers the realities of the despicable subset of the already appalling trophy hunting business – the canned hunting industry, which breeds and raises game such as elephants, bears, lions and others in confined areas so that hunters can select their kill ahead of time and complete a hunt in a matter of days.
This is an easier, cheaper, faster, and inhumane way of hunting big game animals as compared to wild hunts.
This film examines trophy hunting's effect on conservation as well as sustainable alternatives to trophy hunting that render trophy hunting needless – such as eco-tourism, which brings in billions more dollars to the African continent than lethal safaris, and can be a tool for conserving lions.
READ: Wildlife "farming" is not conservation
Unfortunately, approximately 600 lions are killed by trophy hunters each year. And with as few as 20,000 African lions left in the wild, we need to take action immediately.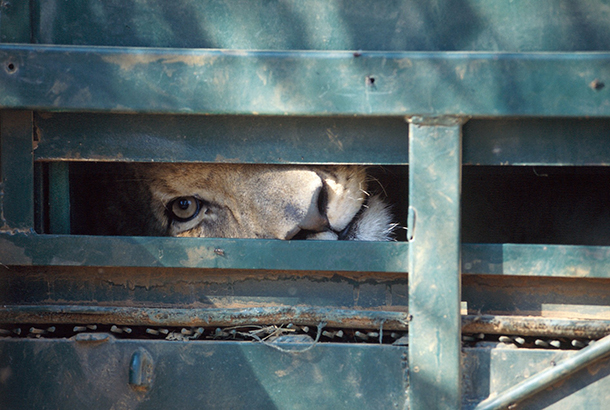 IFAW and the producers of "Blood Lions" are creating more awareness about canned hunting, and other forms of trophy hunting. We are also working to affect legislative change to end the commercial exploitation of lions and other imperiled species being killed for sport. 
-JF
Help us stop canned hunting and the breeding that supplies this industry. Visit IFAW's page Our last chance to protect African lions and "Blood Lions"' Get Involved page.
GD Star Rating
loading...
Article source: IFAW