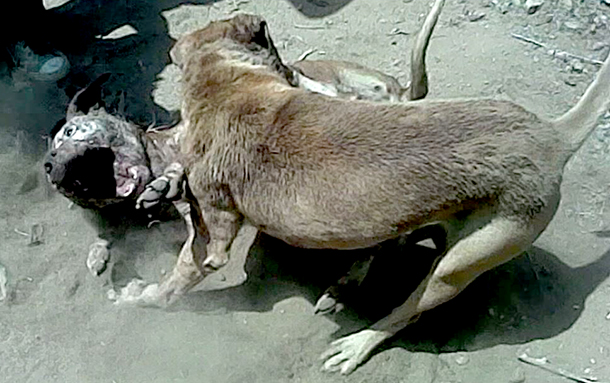 His name was Brute*: a champion in the dog-fighting world, a feared fighter, the proud property of a ring-leader in that dark underworld. And yet he spent most of his life locked up in a tiny dark cage, only being brought out for one of the fights that happen almost daily in secret places across South Africa's Gauteng Province.
The dogs fight for their lives for the entertainment of humans, inflicting terrible injuries on each other while their handlers laugh and drink and bet on the outcome.
In two carefully targeted raids in recent weeks, five major figures in this shadowy and evil world were arrested by the National Society for the Prevention of Cruelty to Animals (NSPCA) and the SAPS.
They were acting on information provided by community members referred to them by Community Led Animal Welfare (CLAW). Eight dogs were confiscated, some with appalling injuries.
All the arrested men were charged under the Animals Protection Act 71 of 1962 Section 2A – Animal Fights as well as Section 2 (1) – Offences in respect of animals.
They are all out on bail.
CLAW works every day in many West Rand communities where this cruel activity has become increasingly prevalent, and has engaged in education campaigns to alert people to its seriousness. CLAW director Cora Bailey has seen how frighteningly fast dog-fighting has taken hold in townships here (the NSPCA's Wendy Wilson says it spreads "like lightning") and is concerned about what that means for the communities.
"The long-term consequences of allowing dog-fighting to take root here are terrifying," says Bailey. "And not only for the people of these townships – for all of us."
She points out that research across the globe has shown a clear link between dog-fighting (indeed, any animal fighting) and the wider criminal world.
"This activity, illegal in its own right, exposes vulnerable youths to a climate of violence and other illegal activities, including drugs, guns, gangs, and gambling," writes Phil Arkow in Protecting Children, a 2007 publication of the American Humane Association.
The gambling link is very strong in other countries: "The primary purpose of the activity is to engage in gaming activities with the intention of making money." (Investigating financial aspects of dog-fighting in the UK, Robert Smith, Journal of Financial Crime 10/2011; 18(4):336-346. DOI: 10.1108/13590791111173687)
But in South Africa, "We encounter a high enjoyment of the blood sport itself and the suffering, instead of just the gambling motive," says Wilson, who has for 24 months been involved in intensive investigation of this crime. She says there's an extraordinary "level of brutality and associated cruelty seen even in the lower level fighters."
In South Africa, there are clear links between dogfighting and other crimes of violence, power and control, such as rape.
And that is very worrying. In many cases, says Bailey, boys are introduced to the dog-fighting world at a very young age. "Boys of 10 or 12 are children whose minds are still developing, and exposure to the violent cruelty of this activity will have long-term consequences, turning violence into their default mode of coping," she says.
R Lockwood (Climates of kindness and cruelty: What does the research tell us? 2007) identified six negative results that follow when children are exposed to cruelty to animals, including, tellingly:
Desensitization and damage of children's capacity for empathy, for feeling and understanding the pain of others.
Children's seeking of empowerment by inflicting pain and suffering.
Children's imitation of abusive behaviours.
Children exposed to the horror of dog-fighting at a young age are very likely to engage in a wide array of violent and anti-social behaviours as they grow up. Crimes like rape. Crimes like vicious assault. Crimes like murder. And crimes like these are all scarily frequent in South Africa.
"Dog-fighting is a crime in and of itself, and I hope these men get the harshest sentences the law can impose if found guilty," says Bailey.
"But the fall-out from dog-fighting is the crime we really have to deal with. In a society in which violence is already deeply ingrained, we emphatically don't need a new cohort of youngsters growing up without the ability to feel empathy, getting kicks out of cruel and bloody acts – and deeply enmeshed in the world of criminality."
It's important that communities understand this clearly. The dogs in the ring are proxies for all of us. If dogfighting continues to spread like wildfire, we will all be the victims, fighting for our lives against a brutal mind-set beyond our imaginations.
(PS: For Brute, a new life has begun. He has been confiscated, so he's out of his cage and will never have to face a fight again. Sadly, it seems his owner ignored signs of what may be diagnosed as a serious illness – but at least he's assured of medical care and decent treatment, whatever happens next.)
Thanks to the generosity of our donors, IFAW has been able to support CLAW in its mission to protect companion animals from cruelty, illness and neglect for over 20 years. For this we are immensely grateful.
*Name changed for security reasons
–MS
GD Star Rating
loading...
Article source: IFAW