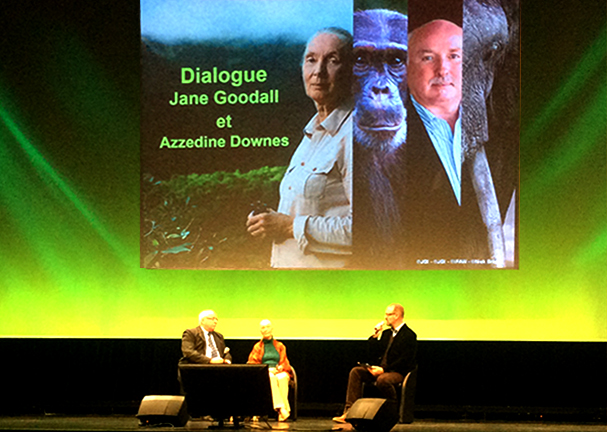 When we talk about climate change, we use terms like "mitigation", "differentiation", and "sequestration". While it is important to understand these issues to protect this planet of ours, I find that these words do not inspire much.
If we are to take meaningful action, it is inspiration that we need.
This week I have been in Paris at the United Nations Framework Convention on Climate Change Conference, an international conference where nearly 200 world leaders are meeting to work on a new global agreement addressing climate change.
It was grateful to partner with IFAW honorary board member and UN Messenger of Peace Jane Goodall, Ph.D., DBE for a discussion on what climate change will mean for elephants and primates. Jane and I realised that each and every one of you reading this blog are integral to achieving the change we wish to see, so we decided to host a discussion at the Cite des Sciences, Paris, and open it up to our supporters and the general public. 
Thank you to all of those who came. It was an exciting evening.
As we took the stage, we had just heard that countries had demonstrated that ecosystem integrity is critical for ensuring climate change resiliency – both in the draft agreements and in the decision text adoption in the agreement.
This epitomised what Jane and I wished to talk about.
So what does this mean? Well let me give you a real world example. IFAW recently undertook some research with our long-term partner, elephant specialist Professor Rudi Van Aarde, to find out just what will happen to elephants if the climate heats up as predicted. The research showed that in Southern Africa, countries like Botswana – where most of the world's African elephants live – will become warmer and drier, making it less hospitable for elephants.
Elephants will therefore either become nocturnal to avoid the heat during the day – leading to less time for feeding during daylight, and resulting in greater infant mortality.
In the Eastern ranges, the climate will be relatively more moderate, making it more viable for elephants – but also more viable for humans, opening more opportunity for human elephant conflict.
But this need not be a competition. We need elephants to make sure the land and ecosystem remains viable for the long-term, so it is imperative we consider the needs of both humans and elephants.
This is exactly what we mean by ecosystem integrity, and this knowledge allows us to prepare plans and strategies to ensure humans and elephants can live in harmony. This research is ongoing in Malawi and Zambia.
Let me get back to the need to inspire: Jane spoke so eloquently of how she began her education programme, Roots and Shoots, by simply beginning a conversation with a small Tanzanian community on how they could solve some of the problems they were facing. What emerged was an organic programme that builds on the legacy and vision of Jane Goodall to place the power and responsibility for creating community-based solutions to big challenges in the hands of the young people.
The alumni of that programme are now in positions of influence, reminding us all that it is important to inspire people – both young and old.
While humans have damaged the earth, we also have the power to save it. And that is why I am so proud that our own education programme, Animal Action Education is sending delegates to our Youth Forum leading up to CITES, another influential international conference next year, to bring young people together from around the world to understand the political processes crucial to protect the most endangered species in the world.
So whilst it is true that biodiversity is under increasing threat from both a rapidly warming planet and competition from people, I left my discussion with Jane full of hope.
If we can harness this positive will, I am forever hopeful that we can protect our planet and all those that live within it – both animals and people.
–AD
Learn more about Jane Goodall's Roots and Shoots project.
GD Star Rating
loading...
Article source: IFAW