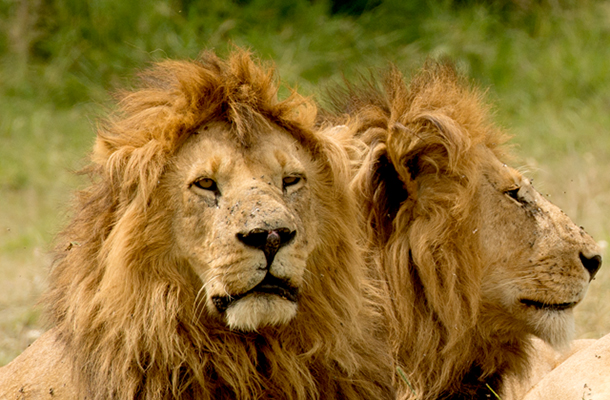 Uneasy lies the head that wears the crown no longer.
The US Fish and Wildlife announced today that African lions will be afforded meaningful protections under the US Endangered Species Act. 
This announcement comes less than six months after the world mourned the death of Cecil the Lion, who was killed by a Minnesota dentist in what was believed to be an illegal hunt in Hwange National Park in Zimbabwe.
This is fantastic news for Panthera leo, whose numbers across Africa have declined precipitously in the last 75 years, and wildlife conservation efforts in general. Nearly 450,000 lions roamed vast ranges of Africa in the mid-century; today, there may be as few as 20,000. It is believed that they have declined 60 percent over the past three decades alone.
Why? Lions have faced a host of threats, including habitat encroachment and loss, a shortage of prey, and deadly retaliations as a result of human-wildlife conflict.
While the listing cannot address all threats to lions, the most important restriction it carries is the killing of lions purely for sport. This rule would require strict permits for the import of sport-hunted lion trophies, which would only be issued for lions originating from countries with a scientifically sound management plan for the species.
READ: BREAKING: African lion expected to get much needed protections
This is significant, because approximately 600 lions are killed every year on trophy hunts and the US is responsible for importing more than half of these.
Whether it is a black rhino, an elephant, or an African lion, it is morally wrong to treat iconic and disappearing animals as though they are worth more as dead trophies mounted and hung on a wall in an American hunter's mansion than living in the wild in Africa.
Two other countries have made headway on this issue recently. In Australia, in response to information provided by IFAW regarding rampant canned hunting, Federal Environment Minister Greg Hunt announced a ban on the importation of lion trophies in Australia last March. And just last month,
Ségolène Royal, French Minister of Ecology banned the import of lion trophies into French territory. France is the first member state of the EU to do so. These follow African countries such as Kenya and Botswana that have already banned the sport killing of lions – and in the case of Kenya all trophy hunting.
In addition, a number of international airlines banned the transportation of lion trophies, as well as other iconic species, including Delta, United and American, after the Cecil killing as well. (South African Airlines had announced a ban, but eventually reversed its decision.)
IFAW will continue to work tirelessly for all available protections for the African lion until the species is safe from the threats that have caused this dire population decline.
–AD
GD Star Rating
loading...
Article source: IFAW