Sonic Sea Film Teaser from Imaginary Forces on Vimeo.
Sonic Sea, the much-anticipated documentary film casting light on man-made ocean noise pollution, was screened last week in the magnificent exhibition hall of Whales of Iceland in Reykjavik. In the company of 22 full-size models of whale species that are found in Icelandic waters, almost 150 guests held their collective breath during the most dramatic scenes of the gripping production.
The International Fund for Animal Welfare (IFAW) and Whales of Iceland jointly organised this event. This amazing new film was produced in association with our partners from Natural Resources Defense Council (NRDC), a leading US environmental NGO, and Imaginary Forces, a brilliant Los Angeles-based production company with whom IFAW has collaborated for many years.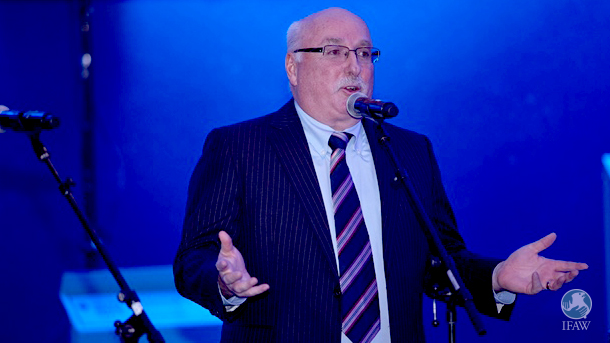 Azzedine Downes, President CEO of IFAW, emphasised in his address how important it is to work together for positive solutions benefiting animals and humans. Introducing Sonic Sea, Azzedine pointed out that, unlike us, whales cannot choose to leave a space full of noise. 
The noise will follow them for hundreds of miles and have a devastating impact on their ability to navigate, find food or mates and detect predators. 
Also participating on behalf of IFAW were Vivek Menon, Senior Advisor to the President CEO of IFAW and Patrick Ramage, Global Director of IFAW's Whale Programme and an associate producer of the film. 
The majority of the guests came from the fast growing tourism sector in Iceland as well as from media, Icelandic politics, NGOs, and the film industry. Rob Barber, United States Ambassador to Iceland, also attended the event. Some guests had driven seven hours from north Iceland to attend.
Sonic Sea is a 54-minute documentary revealing the threats ocean noise is posing to whales and fish and therefore the whole marine ecosystem. 
It shockingly explains, with the help of top scientists, how much noise has increased in the world's ocean over the last decades, impacting whales' capability to communicate and therefore survive.
It briefly touches on the history of commercial whaling, an issue IFAW has actively worked on inside Iceland and with Icelanders since 2003, while using a similar approach in Norway and Japan, the other two countries still killing whales for commercial reasons.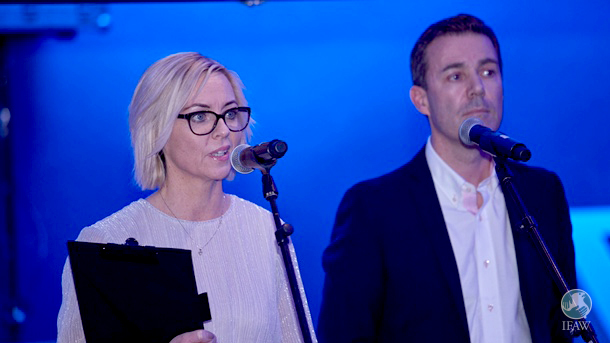 Both Azzedine and Patrick underlined in their talks the importance of dialogue, exchanging opinions and ideas and presenting facts to solve differences.
During the Q As at the end of this event, Gísli Víkingsson, director of whale research at the Icelandic Marine Research Institute, praised the film for accurately addressing these threats to whales. In the Icelandic newspaper Fréttabladid, Gísli is quoted saying the song of the humpback whale should be used to learn much more about these animals. 
Such an event demonstrates exactly what IFAW stands for in Iceland. The old rhetoric of blaming and shaming does not work. When it comes down to it, there is so much more that unites us than divides us and that must be the platform, the very ground from which we work, bringing about real positive changes.
We are moving forward in Iceland, slowly but surely!
–SM
For more information on Sonic Sea, visit www.sonicsea.org and watch this blog for details soon on more upcoming screenings of Sonic Sea in Europe, the US, and worldwide.
For more on ocean noise, go to our page "Understanding the sources of ocean noise pollution."
GD Star Rating
loading...
Article source: IFAW