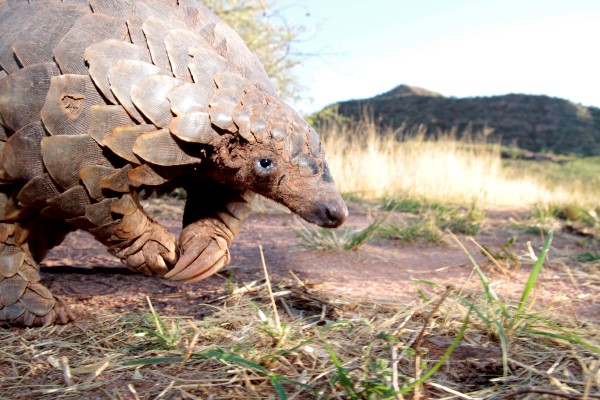 Earlier this week, a score of countries submitted proposals to transfer pangolins to Appendix I of the Convention on International Trade in Endangered Species of Wild Fauna and Flora (CITES), the premier international body that governs the trade of species. Nearly every country in the world is party to it.
The 17th CITES Conference of Parties (CoP17) will be held in Johannesburg, South Africa this coming September. The proposals to list pangolins will be discussed at the CoP, along with other important proposals like those to protect African gray parrots, a number of shark species and lions. An IFAW delegation will be there, working hard to ensure these proposals for greater protections become reality.
Proposals have been filed for the following species (country delegations that submitted the proposals follow):
·        Indian pangolin: India and United States (with support of Bangladesh, Nepal, Pakistan, and Sri Lanka)
·        Sunda and Chinese pangolin: Vietnam, Bhutan, and United States
·        Palawan pangolin: The Philippines
·        The four African pangolin species: Central African Republic , Chad, Côte d'Ivoire, Gabon, Guinea, Kenya, Liberia, Nigeria, Senegal, South Africa, Togo, and United States
Since 2000, all pangolin species have been listed under Appendix II of CITES, with the four Asian species having a zero trade quota. Unfortunately, this listing has allowed legal trade of African species which provides cover for the flourishing illegal international trade. It is estimated that over 100,000 pangolins are poached and trafficked each year.
In addition, considering the way pangolins are most commonly traded (loose scales and meat), it is impossible to differentiate between species without expensive genetic testing, making it even harder to determine what is legal and what isn't. Listing all eight species under Appendix I as proposed would help enforcement officials, while all but ending the legal international trade of all pangolins.
IFAW has been a leader in fighting to protect pangolins from trade for years, and I am very encouraged by these proposals. IFAW co-authored and submitted a petition to list pangolins as Endangered under the US Endangered Species Act (ESA) last year.  Just last month, we passed the first hurdle in that process.
ESA protection here in the US and international protection from the CITES Appendix I listing will go a long way to giving pangolins the protection they so sorely need.
–MH
GD Star Rating
loading...
Article source: IFAW