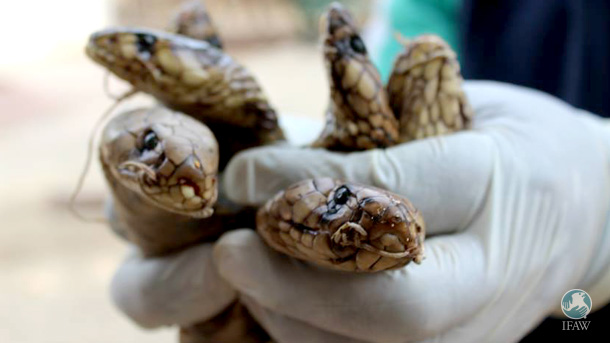 Last month, 60 cobras were confiscated in the Cairo airport after a customs officer detected suspicious movement while monitoring the X-ray baggage scanner. The cobras had been stuffed in six bags inside two foam boxes and surrounded by ice to keep their movement limited; their mouths closed with surgical threads.
The Egyptian cobra is one of the largest cobras in Africa. It is found mostly in the hot and dry regions of the continent. Unfortunately, smuggling cobras and other kinds of reptiles is common in Egypt.
But thanks to trainings supported by IFAW's Dubai office earlier this year (14-18 February) with 40 customs, environment police, airport security, wildlife officers, and veterinary quarantine officers, these smuggling plans have been foiled.
Once the veterinary quarantine management and the wildlife management officials realized it was too dangerous to take any action in the airport, the team arranged for the cobras to be transported to the Giza zoo.
Doctors at the zoo did what was needed to remove the sutures from the cobras' mouths, and they were then put in the reptile room in separate booths with the appropriate temperature and conditions.
The cobras regained their natural movement after 24 hours.
The zoo management is now coordinating with Egyptian Environmental Affairs officials to possibly release the cobras back to the wild.
–DAK
To learn more about our work fighting trafficking visit our campaign page. 
GD Star Rating
loading...
Article source: IFAW