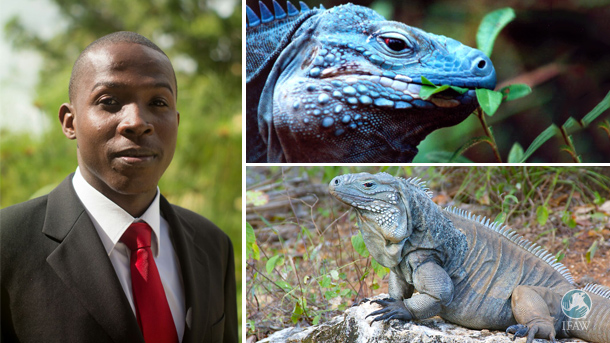 The following is one in a series of blogs leading up to our Youth Forum for People and Wildlife in Johannesburg in September. Delegate Stefan Knights, a lawyer and postgraduate student, is promoting access to information, public participation in decision-making processes and access to justice on matters relating to the environment with the Caribbean Youth Environment Network. –IS
While conservation organizations tend to grab headlines on the illegal trade of charismatic species such as elephants, rhinos and big cats, wildlife from around the world is victimized by poachers and traffickers.
In the small Caribbean islands in which I work, there are major issues relating to the poaching and illegal trade of species of iguanas, sea turtles and parrots.
Each year, endangered iguanas are smuggled off the islands for commercial purposes. For example, 12 critically endangered iguanas from the Bahamas were recently seized from Romanian nationals at London's Heathrow Airport. One of the iguanas died in transit, but the UK government returned the remaining iguanas to the Bahamas. The smugglers were sentenced to one year in prison.
This is one of the few instances where smugglers were caught and the animals were liberated. Unquestionably, there are many more undetected cases that are decimating the iguana population and compromising the welfare of individual iguanas.
READ: Youth Forum for People and Wildlife announces 34 global delegates
To fight this trade, we need to understand why iguanas are smuggled; the challenges in preventing the illegal trade; and what can be done by different sectors of society to curb the illegal trade.   
This is what we do know: Endangered iguanas are found in many islands such as the Bahamas, Cayman Islands, Dominican Republic, Fiji, Galápagos Islands and Jamaica. Iguanas are smuggled into the USA, Europe and Japan to be exotic pets or they are killed in order to supply luxury leather that is made into purses, boots and belts.
Moreover, the survival of island iguanas (terrestrial and marine) is threatened by climate change and economic activities that result in their habitat loss.
Iguanas are very important to the socio-economic development of the islands on which they live. They play an important role as seed dispersers for many endemic plants and the juvenile iguanas can be insectivorous. Since iguanas can be good indicators of environmental change, their loss can result in serious consequences for the ecosystem.
Moreover, they are also seen as a tourist attraction in resort areas.
There are many challenges to curbing illegal trade of wildlife in small developing island states, including the lack of training and expertise of customs officers to recognise the illegal wildlife products that pass through ports. In many small islands there are few domestic laws that give legal effect to the Convention on International Trade in Endangered Species (CITES) and as such, domestic trade of wildlife within the island is often not illegal. Further, the advancement of the internet makes the trading of wildlife easier, and it also poses significant new legal questions.
To prevent the extinction of iguanas, there are many measures that can be adopted by governments, private sectors and civil society.
For instance, governments can impose seasonal bans on hunting iguanas as seen in Trinidad and Tobago.
Civil society can lead iguana rehabilitation projects and advocate for improved conservation strategies. The Jamaican Environmental Trust, for instance, has being advocating for better conservation efforts of iguanas and the Trust has even taken the government to court over related matters.
Similarly, businesses such as JetBlue Airlines and Royal Caribbean Cruises have committed to identifying and eliminating all sales of products illegally made from wildlife.
There is a lot to be done. Hopefully, through the knowledge, expertise and networking I gain at the Youth Forum in September, I can continue to advocate for these forgotten victims of wildlife crime.
–SK
Register and visit our Youth Forum site
GD Star Rating
loading...
Article source: IFAW