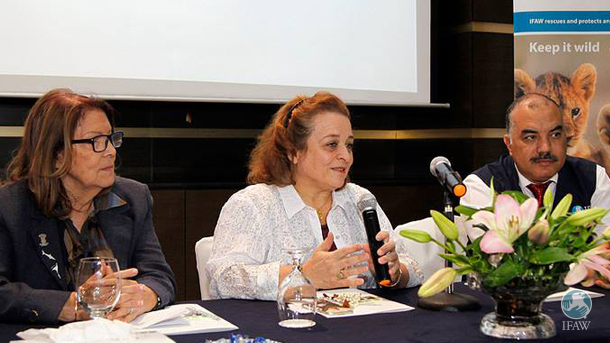 With the help of the Princess Alia Foundation, the International Fund for Animal Welfare's Middle East office gathered Arab country government representatives and NGOs recently in Amman, Jordan.
They discussed the agenda of the 17th CITES Conference of the Parties (Convention on International Trade in Endangered Species of Wild Fauna and Flora) being held in September.
IFAW Honorary Board member, her excellency Princess Alia bint Al-Hussein officially opened the meeting by emphasizing the importance of adopting measures for protection of wildlife and unifying the Arab countries' positions.
Representatives from the Maldives and Sri Lanka also attended. NGO co-sponsors included the Franz Faber Foundation, Pew Foundation and The Royal Society for Conservation of Nature in Jordan.
The meeting discussed a number of topics, most importantly transferring the Barbary macaque, pangolin, African gray parrot, African elephant and African lion from Appendix II to Appendix I and including the silky shark, thresher shark, and mobula ray in Appendix II.
The meeting touched upon other documents related to elephants' conservation and ivory trade like the destruction of ivory stockpiles, closure of domestic ivory markets and the trade in live elephants. Also white rhino horn trade was discussed along with the growing threat of illegal wildlife e-commerce.
At the end of the second day in a closed meeting representatives of the Arab states discussed the conservation and trade in cheetahs, hunting leopards and the transfer of peregrine falcons from Appendix I to Appendix II.
–EM
Learn about other efforts to protect animals in the Middle East.   
GD Star Rating
loading...
Article source: IFAW