Peter Erwin/YouTube
IFAW Marine Mammal Rescue and Research Response summer interns Kirsten Spray and Lianna Montgomery co-wrote this blog on a recent dolphin response.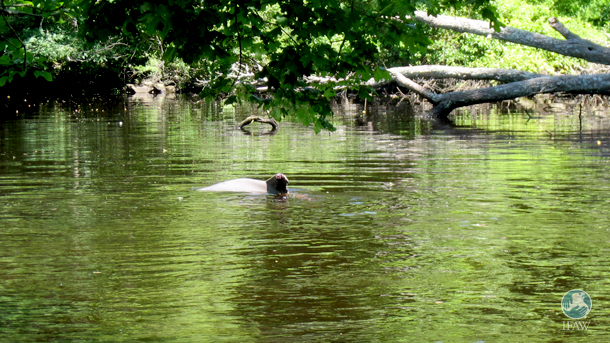 Recently, a bottlenose dolphin, rare for New England waters, was spotted miles up the Taunton River. After receiving the call on our stranding hotline, we loaded up our dolphin trailer with all of the appropriate response gear and headed off Cape.
When we arrived at the scene, we discovered many bystanders along the shore watching the dolphin swimming in circles in the shallow, murky water.
Bottlenose dolphins (Tursiops truncatus) are a very social species and are often seen travelling in groups, so to find one alone this far inland was unusual.
Our team also noticed the dolphin's dorsal fin contained numerous barnacle growths called Xenobalanus globicipitis, which are commonly found on cetaceans in colder waters.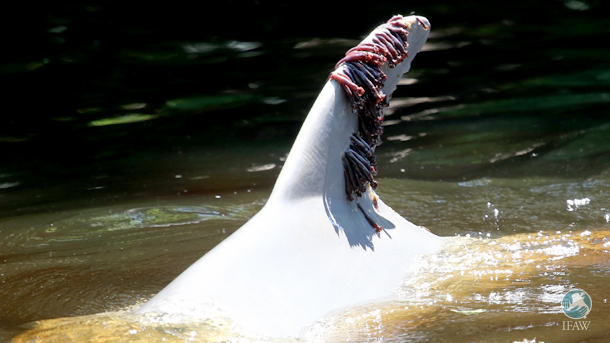 After observing the dolphin's condition and behavior, and it being so far up river that it was unlikely to find its way back out to the ocean, the team decided that it was best to remove the dolphin from the river in order to conduct a thorough health assessment and possibly relocate the animal. As the tide was quickly dropping, two staff members put on dry suits and waded into the river with a dolphin stretcher to help corral the animal, while a kayaker blocked the dolphin's escape from the other side of the bridge.
Normally, a healthy dolphin would have no trouble evading capture, but they were able to easily get a hold of it. When the dolphin was fully restrained and brought closer to shore, we moved into the water with IFAW staff and volunteers to put the 400+ pound dolphin on a stretcher and carry it to the trailer for a health exam.
Once in the trailer away from the noise, we started recording data on respiration rate and drew blood. Before and throughout the examination, the animal, which we discovered was a male, was displaying what we learned were signs of stress and body failure: muscle spasms, arching his back, jaw popping and regurgitation.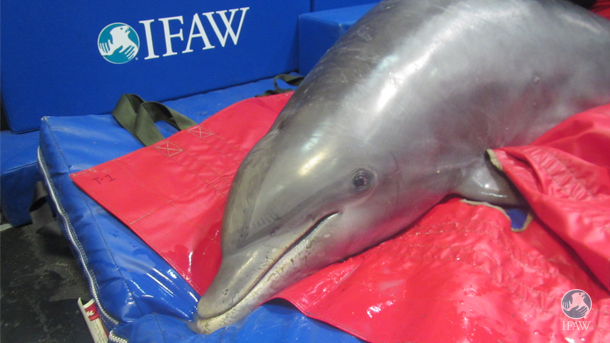 The animal died in the trailer during the exam.
We wondered if the extraction and the exam put so much stress on the dolphin as to cause his death, and if keeping him in the water would have been better.
We were told that if the animal was in good health, such a rescue would not have caused such a rapid decline and death.
There was no option. Being so far inland in shallow water, he would likely not have survived at all without intervention. As we started on our way back to the Cape, the team began making arrangements to conduct a necropsy, an animal autopsy, on the dolphin to further investigate his health status and hopefully determine why he died.
He was emaciated and had a severe load of lung worms, and likely pneumonia.
We also noted issues with major organs including the heart, brain, liver, pancreas and kidneys. Basically, this dolphin was very sick.
Unfortunately, the animal's condition was so poor, that any care we would have been able to provide in the field would not have been enough to save him. Although we initially had high hopes of being able to release this bottlenose dolphin back into the ocean, it was still a great learning experience for us as our first dolphin response.
–KS LM
Learn more about marine mammal rescue and research.
GD Star Rating
loading...
Article source: IFAW