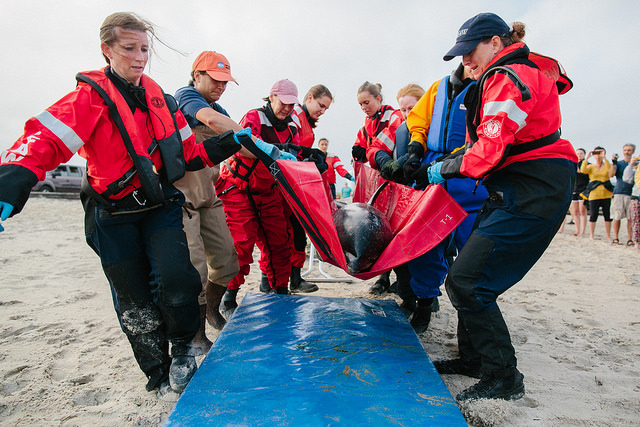 The International Fund for Animal Welfare's Marine Mammal Rescue and Research team experienced a busy three days of responses to Atlantic white-sided dolphins. Complicating their efforts were numerous public interventions, which while good-intentioned, may have caused more harm to already stressed animals. As Kristen had stressed in her last blog, please don't push or drag dolphins back into the water. The blog also recommends four actions you can take to help these animals.
THURSDAY
The Wellfleet harbormaster reported to us 10 to 12 dolphins swimming in the inner harbor. Upon arrival, we boarded vessels to try to guide several small groups of dolphins out of Wellfleet harbor. During our efforts, two groups of three dolphins were reported stranded, and subsequently pushed back into the water by members of the public.
After completing our boat operations, we received a report of four dolphins stranded in a cove in Wellfleet. Our team was on scene in minutes, but members of the public had intervened again.
Fortunately we found three of the dolphins. Using specialized equipment, we moved them to our rescue trailer where IFAW staff assessed their health status. Their vital signs and body condition looked good, so we began to prepare for their release. We provided vitamin injections and fluids to combat the physiological stress of the stranding and affixed one dolphin with a satellite tag to track its progress post-release.
We then drove the trio of animals to West Dennis Beach where they would have access to deep water, which improves their chances of survival. As luck would have it, our colleagues and stranding response partners from the New England Aquarium were at that very same beach releasing a rehabilitated sea turtle and were able to give us a hand.
We released all three dolphins simultaneously, and they headed off shore together.
FRIDAY
Three more dolphins swam into the harbor and the Wellfleet harbormaster was attempting to keep them out of the more dangerous shallow areas. When our team arrived; we found a pod of more than 30 dolphins swimming near shore. We immediately concocted a plan to prevent a mass stranding. Using three boats, we guided them out to open water using a combination of boat maneuvers and acoustic deterrents called "pingers," which emit a high-pitched sound that encourages dolphins to move in the opposite direction, away from shore. The pod was at least a mile from shore when the team returned to the dock. 
SATURDAY
Our team responded to yet another report of three dolphins in shallow water in Brewster. One young dolphin was pushed off by a beachgoer; it later re-stranded and died. Another dolphin was reported stranded and pushed off by a kayaker, not to be observed again.  One adult female stranded, and our team was able to rescue it from the stranding site, assess its health and provide medical treatments.  She was affixed with a satellite tag and taken to West Dennis Beach where she was released.
NOW
We have not had any further reports of dolphins near shore.
The two animals affixed with satellite tags continue to transmit, and we are hopeful that the released animals are recovering from their stranding events. The satellite tagged dolphin released on Thursday is currently transmitting from about 90 miles east of Truro and has traveled nearly 300 miles. The dolphin released on Saturday is currently about 70 miles southeast of Nantucket in the Great South Channel and has traveled  more than 125 miles.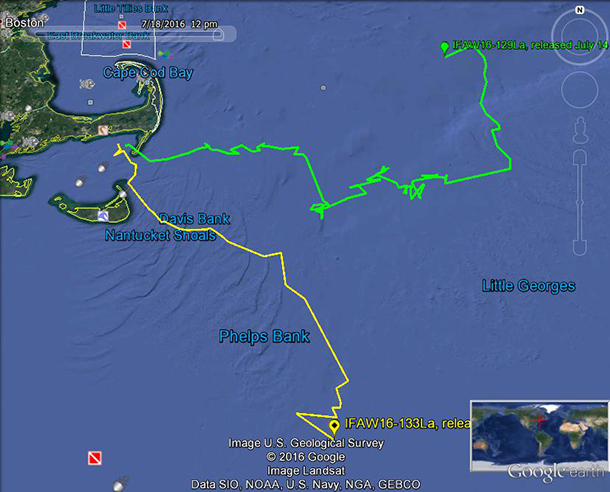 We must remind you that if you see a dolphin (or any marine mammal) on the beach, it is illegal to touch it. Please stay back 150 feet and call IFAW's  24-hour stranding hotline at 508-743-9548.
We would like to acknowledge the invaluable help of the Wellfleet harbormaster's office, the towns of Brewster, Orleans and Dennis, our volunteer responders, the New England Aquarium and the members of the public who reported the strandings. 
–KP
IFAW works under a stranding agreement with the National Oceanic and Atmospheric Administration, which permits us to rescue legally protected marine mammals including dolphins, whales, seals and porpoises. 

GD Star Rating
loading...
Article source: IFAW