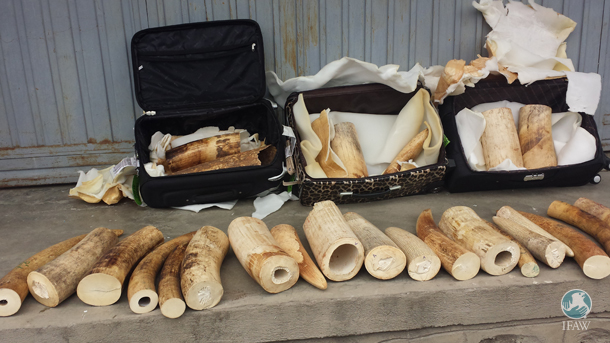 A Rwandese national who was arrested at the Bole International Airport in Addis Ababa, Ethiopia, in possession of 103 kilograms of ivory on June 22 has been found guilty of illegal possession of ivory and jailed for one year—barely three weeks after her arrest.
The woman traveller was in transit from Rwanda to Benin and was arrested by airport police when the luggage porters at the airport became suspicious of her extremely heavy luggage. The ivory had been cut into small pieces and packed in three ordinary travelling bags. She was handed over to customs officials and later transferred to the federal police station within the airport for further investigations.
Coincidentally on the day of the arrest International Fund for Animal Welfare (IFAW) staff were at the Bole airport and were alerted by Ethiopian Wildlife Conservation Authority (EWCA) officials on the ivory seizure. Samuel Mutua IFAW's East Africa Wildlife Trade Project Officer was making final arrangements for an IFAW training, Detecting Illegal Species Through Prevention Training (DISRUPT), for Ethiopian law enforcement officers when he was called upon to act as translator for the suspect, who could only communicate in French and Swahili.
She claimed that she was not aware that she was transporting ivory but had been informed that the ivory was a valuable tree species that was highly priced in West Africa.
Despite the relatively low custodial sentence, which may have been a result of the suspect's pregnancy, IFAW applauds the swiftness in handling the process from detection to conviction. IFAW will continue to partner with EWCA in offering capacity-building activities to law enforcement officials in Ethiopia in the detection, seizure and handling of illegally trafficked wildlife products.
We have it on authority of the Director General of EWCA Dawud Mume Ali that IFAW trainings have been very effective in helping EWCA and other law enforcement agencies to curb wildlife trafficking in Ethiopia.
In addition to stopping the trade and demand for ivory, IFAW's vision is to stop the killing of elephants. The tenBoma project is working in partnership with the Kenya Wildlife Service, other like-minded organisations and communities to collect data and analyse it for information to further understand how transnational criminal syndicates operate, with the aim of disrupting them.
–KA

GD Star Rating
loading...
Article source: IFAW