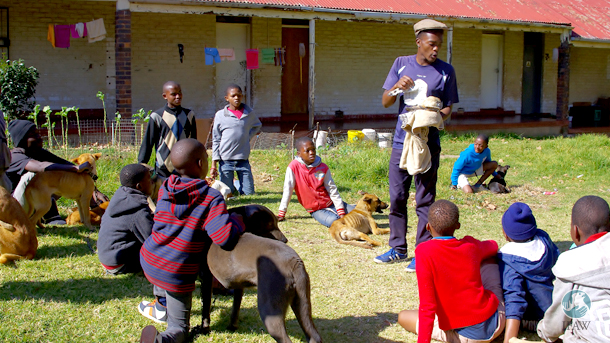 In the townships and suburbs of the West Rand, among the communities Community Led Animal Welfare (CLAW) serves, there are often encounters between humans and wild animals. There are snakes, wild birds, baboons and vervet monkeys, and even sightings of jackals and the elusive aardwolf.
Whenever a wildlife encounter comes to the attention of the CLAW staff, it's seen as a great opportunity to do some education. Cora Bailey, director of CLAW, an IFAW project in South Africa that mostly helps people and their companion animals, recently learned of an injured owl in a nearby township scrambling around on the ground and unable to fly.  
Owls are the object of superstition and feared as evil, so CLAW staffers were delighted that previous education had paid off–the community had called them instead of killing the bird.
Cora, her partner De Villiers Katywa and CLAW staffer Makhwenkwe Zwide raced to the scene. When De Villiers eventually found the bird, the poor thing had died of its injuries.
The body was the focus of intense curiosity, so Cora held an impromptu training session, talking to some 50 people.
The message: Owls are not only harmless, they are beneficial.
She explained that if every part of the township had its own resident owl, there would be far fewer rats running around – a point which really hit home as the area is plagued by rats, some bold enough to bite babies and people.
What really proved an epiphany was when Cora invited people to touch the dead owl's feathers. The soft texture and the intimate, direct contact had people oohing and aahing.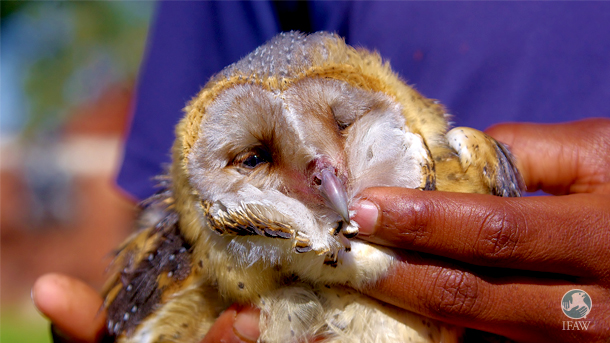 The next day, Makhwenkwe noticed a group of youngsters arriving at CLAW's Durban Deep Clinic. He shepherded them onto the grass and brought out the owl's body for a repeat performance. All eyes were on him as he talked about the value of owls, and once again, everyone crowded round to touch the owl.
Later on, CLAW's trap caught a monkey humanely in an upmarket suburb of Johannesburg.
Unusually, it was a female (it's almost always the males who leave their troops to travel). Now she had to be relocated somewhere safe.
Cora takes rescued vervets and baboons to a sanctuary outside Johannesburg. She took two volunteers with her, so they could learn more about rewilding these creatures, who are also often at risk from superstitious urban dwellers.
The sanctuary staffers are experts with rescue primates – their enclosures are full of vervets that've been pets or mascots (until they start to bite) and disabled monkeys who cannot be rehabilitated into the bush.
Meisie (meaning girl) was a fully wild monkey, however, so she was a prime candidate for rehabilitation. She was placed in an enclosure with a mishmash of youngsters, one of whom was a young male named Warrior, who'd been castrated by his previous owners in a wrongheaded attempt to 'calm him down'. 
As she was released and scampered round the enclosure, Meisie screamed. Eventually she sat still on a high platform and focused on screaming loudly and continuously. Warrior moved over to her, triggering an even more rapid-fire scream. But all he wanted to do was to place his hand on her head and tell her, in vervet language, "There there. Everything's going to be alright…"
By the time the CLAW team left, Meisie was calmer; within a couple of days, we heard that she'd taken the baby vervets to her maternal bosom and was the best of friends with Warrior. 
Another happy ending in the making – and two volunteers armed with information that will help when they talk to township residents about monkeys in the future.
–MS

GD Star Rating
loading...
Article source: IFAW