In the wake of the Parliament of New South Wales' historic decision to end greyhound racing in the state, PETA Australia has sponsored and named a dog after Premier Mike Baird.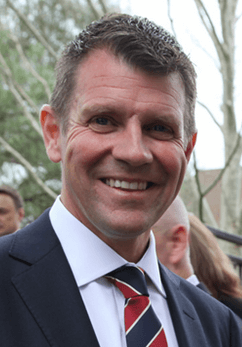 The Honourable Mike Baird MP 44th Premier of New South Wales | Kate Ausburn | CC By 2.0
Three-year-old Mike the dog recently arrived at Friends of the Hound in Newcastle after being surrendered by a local racing owner.
"Not unlike Mike Baird the politician, Mike Baird the dog loves a bit of exercise as well as spending time on the couch watching The Bachelor", says Friends of the Hound volunteer Kay Mills. "After spending the past three years running for his life, he deserves a loving home and family."
Mike Baird, the dog
---
New South Wales joins a list of governments around the world that have banned greyhound racing. In the industry, greyhounds are "discarded" once they're deemed too old, slow, or injured to race profitably.
Last night's vote to pass the legislation through the lower house means anyone who conducts greyhound races in the state after July 2017 could face a year in jail.
"Thanks to the Baird government, tens of thousands of dogs' lives will be saved. But the responsibility does not rest solely with policymakers, as everyone can do their part to ensure dogs like Mike finally get the life they deserve."

 

– PETA Australia Associate Director of Campaigns Ashley Fruno
PETA encourages all prospective dog guardians to adopt from an animal shelter instead of buying from pet stores or breeders.
---
For more information about adopting Mike, go to friendsofthehound.org.au.
GD Star Rating
loading...
Article source: PETA Files