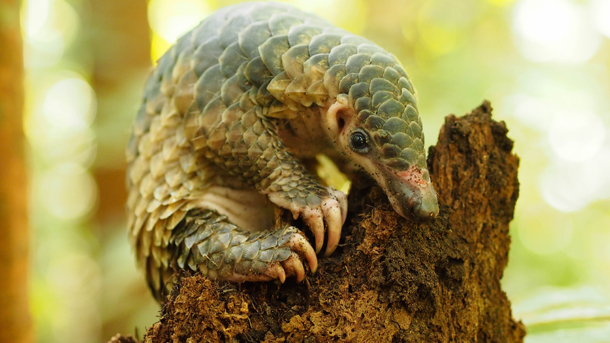 Scientists from around the world agree: All pangolins need to be protected.
That's the message made clear by the International Union for the Conservation of Nature (IUCN), the premiere international body of conservation scientists.
The IUCN meets every four years at the World Conservation Congress to discuss the biggest conservation issues of our time. The Congress is being held in the US for the first time ever in Honolulu, Hawaii starting September 1. In the lead up to the Congress, IUCN Members propose, discuss, and debate resolutions that determine the direction of conservation science and action for years to come.
IFAW, with the support of a coalition of likeminded animal conservation groups, spearheaded drafting and circulating a resolution that confirms the dire state of all eight pangolin species.  IFAW then asked IUCN Members to support the toughest international protection for them available.
The motion—which was voted on in advance of the Congress—passed with flying colors.
Notably, the motion specifically urges all IUCN Members to support  listing all pangolin species under Appendix I of CITES, the most stringent international protection available. With several proposals to transfer pangolins to Appendix I scheduled to be voted on at the CITES Conference of Parties in South Africa only a month from now, the IUCN motion could not come at a better time.
The IFAW team is heading to the Congress in Hawaii tomorrow in order to continue the momentum for increased pangolin protections world-wide.
The IFAW delegation is leading two key pangolin events at the Congress in order to build more support for pangolins:
 Friday 9/2, 7pm: IFAW is an organizer and sponsor of the Pangolin Conservation Reception at the U.S. Pavilion in partnership with the U.S. State Department, NRDC and HSI. The reception will feature speakers including Honorary IFAW Board Member Jane Goodall and US Department of State Undersecretary Cathy Novelli.
Saturday, 9/3, 8:30am: IFAW is sponsoring the panel titled Pangolins in Peril: How to save the most illegally traded mammal in the world along with NRDC, Freeland, and HSI. This panel will feature an engaging discussion between pangolin experts, including IFAW North American Regional Director Jeff Flocken, who is also a member of the IUCN Pangolin Specialist Group.
Look out for more updates soon!
–MH

GD Star Rating
loading...
Article source: IFAW