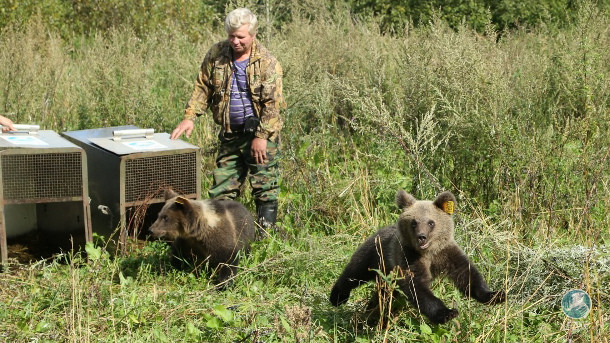 End of summer and start of fall is the traditional release time for orphan bear cubs. By now the bear cubs on average are nine months old. They have spent most of their lives in the IFAW Orphan Bears Rehabilitation Centre, where they learned to forage for food independently and be afraid of humans. They are now ready for their second winter.
 A special effort is taken to release the bear cubs in locations where they were originally found.
The male bear cub Mike was the first one to be released this season. When he was brought to the centre on January 17 he was very tiny. By August 23, Mike already weighed 28 kg. He was released in the territory of Andreanaposkly District in the Tver Region.
READ: Five orphan bear cubs progressing at rehabilitation centre
A week later on August 30, a male bear cub Umka was released in the territory of Syktyvdvinsky District of the Republic of Komi. The bear cub arrived to the Centre on May 25 at the age of 4.5 months from the city of Ukhta.
His tragic story was covered by almost every media outlet in Ukhta. Young people during a walk in the forest saw a bear cub hanging on a tree. First they thought he was dead as he did not move for quite some time. When they decided to leave they noticed that the bear cub moved. There was no female bear nearby, most likely she was killed by hunters. The bear cub was very weak, almost not moving and could not even make sounds.
Those who found the bear cub removed him from the tree and took him with them.
He temporarily was housed in a shed, taken care of and fed. After some time, a group of activists was able to organize transfer of the bear cub to the IFAW Centre. Initially Umka kept away from the other bear cubs. As he spent approximately two months with his mother after leaving the den, thankfully he had a quite well developed fear of humans.
Umka's release location was selected by the chief hunting inspector of the Syktyvdvinsky District in an area situated quite far from settlements and rich in natural food, apples, blueberry and lingonberry. The bear cub weighed 27 kg and transportation of the bear to his release location went without complications.
The third release took place on September 5 at the border between Strugokrasensky and Plyussky Districts of the Pskov Region. Female bear cubs Zoya and Zosya were released there. They arrived to the Centre on February 19 from Plyussky District of the Pskov Region. At the time of their release each of them weighed 33 kg. A location remote from settlements was selected with an abundance of natural food, including apples and rowan berries.
Female bear cubs Zlata and Zeoma were also released last month in a region quite far from settlements and abundant in natural foods, including apples and blueberries.
–MV

GD Star Rating
loading...
Article source: IFAW