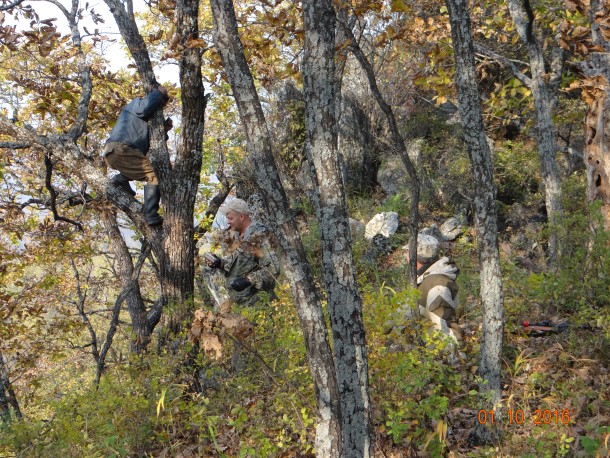 Svetlaya and Borya, two tigers released as part of our tiger conservation project in Russia, are living comfortably in the wild in the Zhuravliny Sanctuary. Experts are hopeful they may mate soon, if they haven't already.
But love in paradise cannot be realized without the hard work by local authorities, inspectors of the Specially Protected Nature Territories Directorate of the Jewish Autonomous Region.
Since the Directorate has had the cross-country vehicle Bobr, purchased with funds from the International Fund of Animal Welfare, levels of poaching have gone down. In September in the course of the regular territory patrol, inspectors detained a resident of one of the neighboring villages, who was hunting illegally in the territory of the Zhuravliny Sanctuary, and confiscated his shotgun.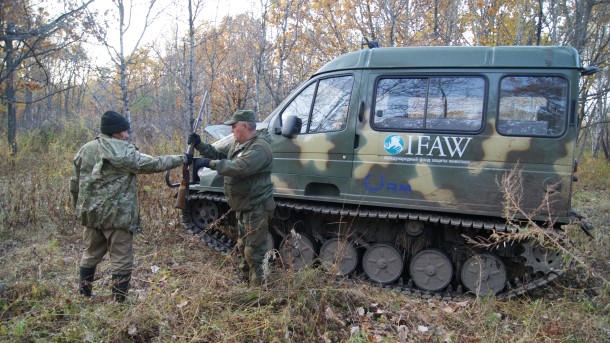 Not every anti-poaching patrol results in the detention of a poacher or poachers. But each of such patrols serves to prevent violations and to prepare for the fire season, which starts very soon. Prevention of fires in the tiger habitat is also the responsibility of the Directorate's inspectors.
These tasks are extremely important, as restoration of the Amur tiger population within their historic habitat is a complex and long-term process.
Based on the data obtained from camera traps during the monitoring expedition, Borya and Svetlaya are in an excellent shape and hunting successfully. Survey of the same locations, particularly important in life of the tigers, such as marking trees, regular paths and resting places, confirm again that Borya and Svetlaya have established their range within a joint territory.
Monitoring of rehabilitated and released tigers is continued by PRNCO Tiger Center, Hunting Inspection Department of the Jewish Autonomous Region Government, Institute of Ecology and Evolution of the Russian Academy of Sciences, Wildlife Conservation Society (WCS), staff of the Bastak and the Khingansky Nature Reserves with support of "Phoenix" Foundation and IFAW.
–EB
GD Star Rating
loading...
Article source: IFAW